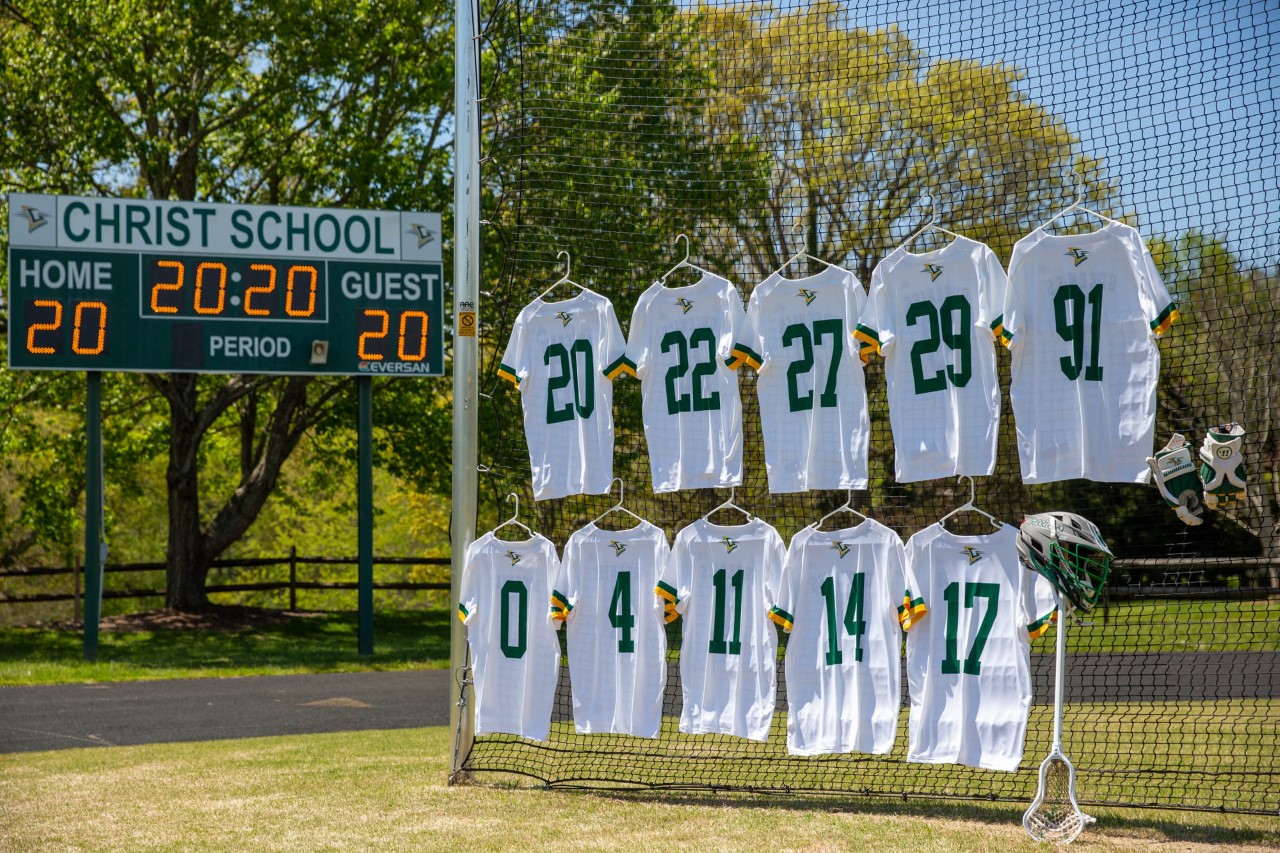 Christ School's Class of 2020 left an indelible mark on Greenie athletics, even if some seniors did not get the end to their high school careers that they wanted. In accordance with North Carolina's Stay at Home Order, the NCISAA announced on April 24 that the spring sports season was cancelled due to the COVID-19 pandemic.
Today, the Christ School Athletic Department begins a week-long celebration of the Class of 2020's spring sports athletes on our website and @greeniesports social media. Each day will be devoted to a different sport, with that coach reflecting on what the seniors meant to the program and the school.
Day 1: Lacrosse
Benjie Colberg led varsity lacrosse to a 4-0 record in his first season as coach and the Greenies had achieved several Southeast regional rankings after outscoring their opponents, 60-12. These weren't just any opponents for the three-time defending NCISAA Division I state champions. Christ School pummeled George Washington (W. Va.), Baylor School (Tenn.), McCallie (Tenn.), and Montgomery Bell (Tenn.) before the season was suspended in March.
"This group of seniors will always be special to me, as they were the leaders of my first team here at Christ School," Coach Colberg said.
"Whenever new leadership steps in, there are changes that occur to what has become customary. I couldn't be happier with the way these guys adapted to the new, embraced the challenge of change, and pushed themselves and their teammates to be better. They make me very proud to coach here. Each day was filled with energy, and I rarely ever had to hop on them to 'pick it up.' This group leaves an incredible mark on this program, and they will be remembered for quite some time. I wouldn't change a thing about this season, because it is the one that I got to spend with the class of 2020. It's my hope that they stay engaged with our program as they move on from Christ School! But for now, I am just grateful for each of these guys and can't wait to see their future successes."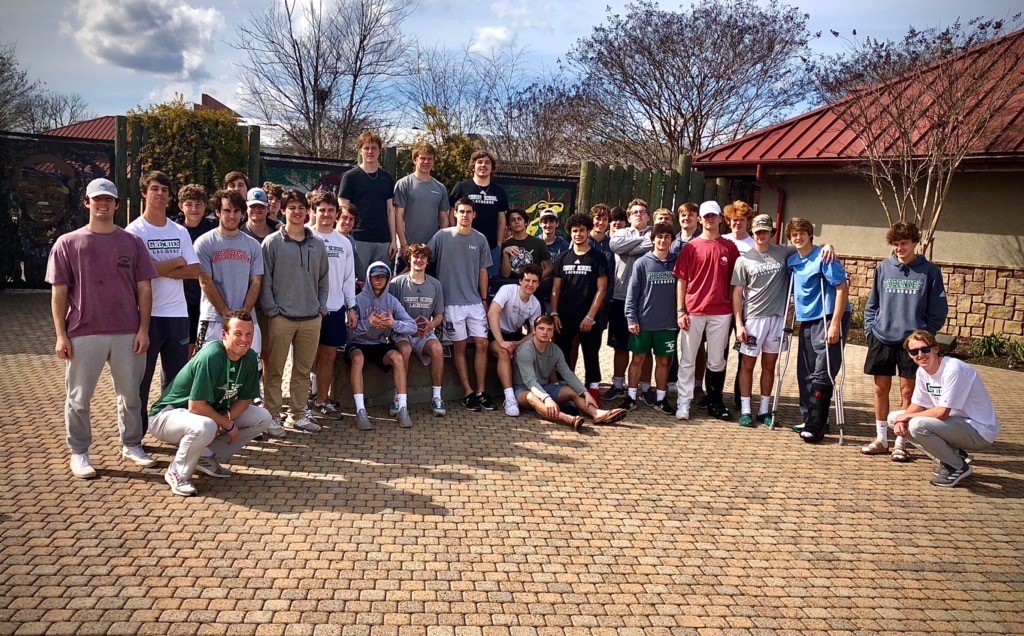 The following are Coach Colberg's remarks on the individual contributions of the team's 10 seniors.
Grant Majewski: Grant is a two-year member of the lacrosse program, and a key cog in what was a very good defense. His physicality and aggression are two defining qualities that I'll think of, although his skill sticks out as well… it will be hard to forget his behind the back goal in our season opener this year! Grant leaves a big hole to be filled next year, and we will miss his presence both in the center of our Giant Defense and in the middle of the field. We wish Grant nothing but the best as he goes to study at East Carolina University next year!
Jack Fitch: Jack Fitch is a two-year member of the lacrosse program and a team captain this year. While his statistics do not jump off the page (3 goals, 1 assist), his ability in between the lines to dominate the game is unmatched. His speed, relentlessness, toughness and knowledge of the game, combined with fantastic skill make him a Division I ready lacrosse player. Jack's leadership both on and off the field were exemplary and will bode well for him in his future. His impact will be missed greatly next year, and we cannot wait to see him get to work at The University of Vermont. 
Theo Pearson: Theo is a two-year varsity player, and a solid role player for us at defense this year. Theo improved greatly as the offseason progressed and proved to be a reliable asset on the man-down defense. Theo responds well when challenged and is one of the more well-liked members of the team. His sense of humor will be missed by all of us, and we wish Theo the best as he heads north to attend The University of New Hampshire next year. 
Kevin Masson: Kevin Masson is a three-year member of the varsity team, who worked his way from the bottom of the depth chart, all the way up to be a senior captain and our most vocal defender. Kevin works as hard as anyone I have met, rarely ever complains, and pushes his teammates to be the best that they can be. I'm not sure I have seen more growth from a student both on a personal level, and an athletic level, then Kevin Masson. He will be missed greatly next year, but he is ready for his next challenge, playing for the Rollins College lacrosse team. 
Richard Zantzinger: Richard has been a part of the Christ School lacrosse program for as long as he has been a student here and became a member of the Varsity team for his senior year. Richard provided us great depth at defense and responded well to the challenge to work hard not only for himself, but for his teammates. We wish Richard all the best as he travels to the University of Denver this fall.
James Cinque: James Cinque worked his tail off to become a starting member of our defense this year, at the all too important short stick defensive midfielder position. He was very reliable both on the defensive side and pushing the ball in transition. James' love for the game and for his teammates were noticeable every time he stepped on the field. We talk about how practice is the best part of the day, and I truly believe that's what it was for James. He will be missed greatly next year, as he heads to Lynn University.
Davis Lindsey: Davis will go down as perhaps the best player to ever play at Christ School. While Davis' talent is undeniable, I was particularly proud of the way he stepped into a leadership role as captain this year. It is easy to just "lead by example" when you are the best player on the field, but Davis had started to find his place as a vocal leader, and a teacher to the rest of the team. Davis can do it all on the lacrosse field and will leave Christ School as the all-time leading points scorer at 337 points. Had he continued to score at the rate he was this year, and we finished the season, he would have finished his career with 441 points. Davis will continue his career at lacrosse powerhouse Loyola University of Maryland, and we cannot wait to watch him from here!
Charlie Tucker: Charlie Tucker is a one-year member of the varsity lacrosse team. He provided us with great depth at defense and performed very well when he got playing time during our spring break trip. He pushed himself hard during practice, and always competes to be the best that he can be. We wish him nothing but the best as heads to East Carolina University in the fall!
Jack DuBose: Jack Dubose is a grinder! A three-year varsity player, his competitiveness, work ethic and drive are second to none, and it showed. Jack played all over the field for us this year, finding himself at both defensive midfield and offensive midfield. His high bouncer vs. Montgomery Bell was iconic. Jack plays with a passion and tenacity that is difficult to quantify but noticed by everyone who watches him play. A true throwback midfielder, he will be missed greatly! Best of luck at UNC-Chapel Hill next year, Jack! 
Beau Hecimovich: Beau Hecimovich might be the longest-tenured high school starting goalie in the country. He has started since he was an eighth grader, compiling a record of 69-14. Had we continued our season, I think he could have been up there with the all-time winningest high school goalies EVER! Beau has grown up greatly since he began here, and that was most evident this year, as he led a relatively inexperienced defense to a fantastic start. I am so proud of the way he stepped into his role as captain this year. He saved 74 percent of shots this year, an incredible statistic considering some of the talent we faced. It is hard to imagine Christ School lacrosse without Beau in the net! We wish Beau nothing but the best as he heads to High Point University this fall to play for their lacrosse team. 
John Fitch P'20 took pictures at every Greenie varsity lacrosse game this spring. Those photos may be found at this link.