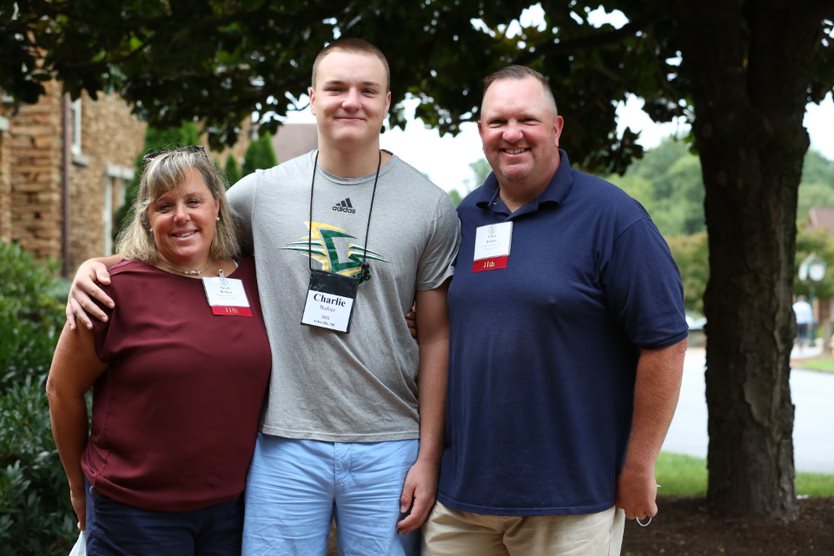 The oldest high school football rivalry in the Carolinas only comes around once a year, but for Charlie Bednar '22 it is a 365-day experience.
Charlie is a five-day boarding student in Gardner House and plays on the offensive and defensive line for Christ School. His father, Chris, is an assistant coach at Asheville School who specializes in coaching up the Blues linemen.
Saturday afternoon's 1:30 p.m. game on Fayssoux Field will represent the 94th edition of "The Game," with Christ School (2-2) looking to extend its series record winning streak to nine years. Fans can watch the live stream at https://csstump.net/live.
"It's a lot of fun to play against my dad," Charlie said. "He's coached me all throughout my life and has always been there at my sporting events. I'm sure we'll text each other and call each other this week and there will be a little bit of smack-talking, but it's all in good fun."
The Bednar family moved to Asheville two years ago from Connecticut. Chris also serves as the Director of Athletic Facilities at Asheville School and Sarah Bednar is Assistant Director of Athletics and Head Varsity Swim Coach.
Charlie's first taste of "The Game" was last year's 40-13 win on the Asheville School campus. The Blues and first-year coach Shawn Bryson have a 2-1 record entering Saturday's rematch.
"We can't treat this game lightly," Charlie said. "I know they are going to play their hardest. They always come ready to play us."