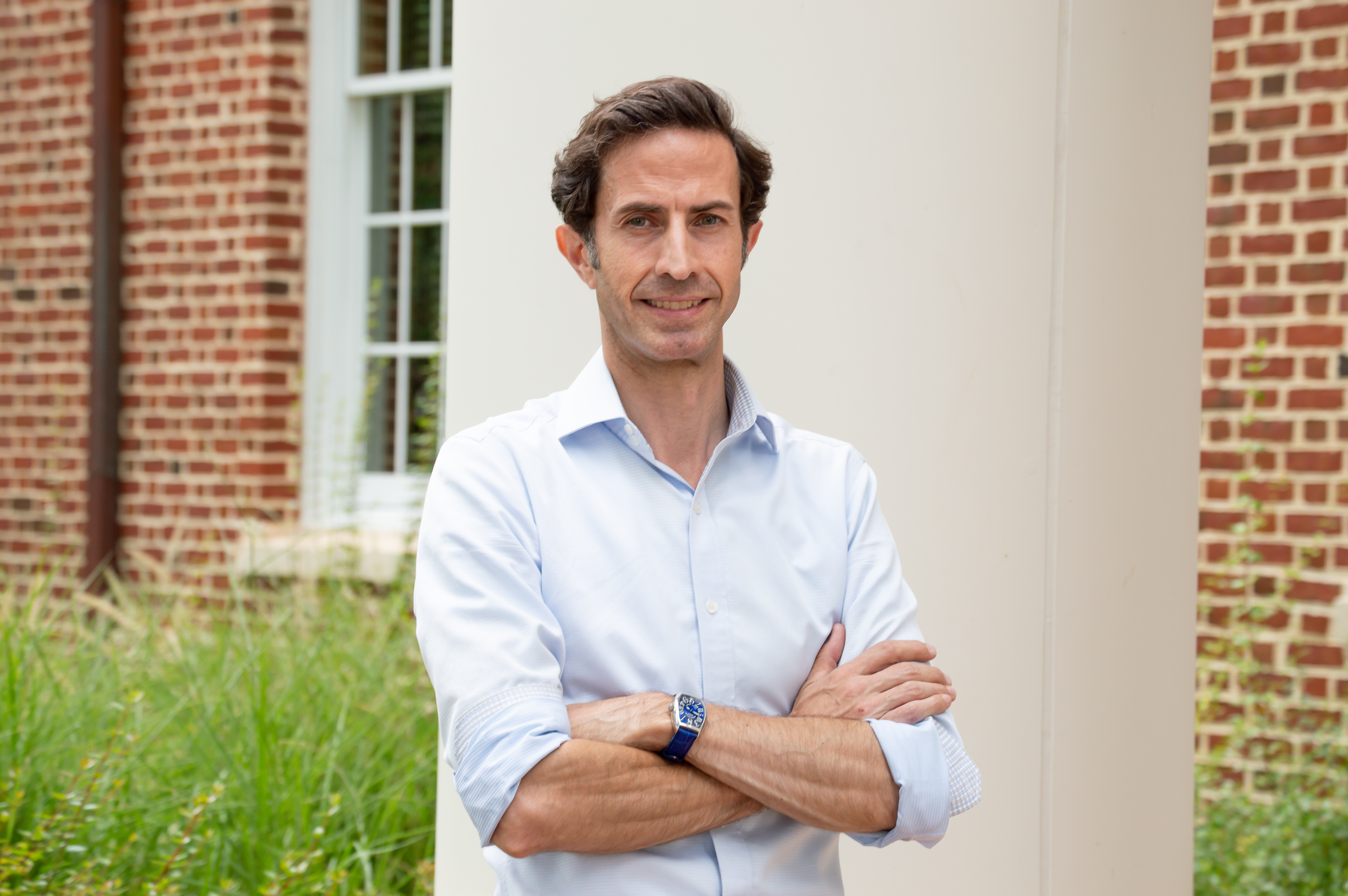 Starting up something new can be daunting and does not suit everyone. Andrew King '94 not only thinks the concept is appealing, he is excited to practice some of the same entrepreneurial methods he teaches in the classroom. The Christ School alumnus was hired in April to be the inaugural director of the Flemming Center of Entrepreneurship and Innovation at Virginia's Hampden-Sydney College. He is crafting an all-new department (classes, workshops, and more) from scratch and will be teaching classes on business fundamentals and entrepreneurial thinking at the nation's 10th oldest university. Hampden-Sydney is one of only three four-year, all-male liberal arts colleges left in the United States. King previously worked at the University of Virginia Darden School of Business for 12 years and co-authored the book, "Solving Problems with Design Thinking" in 2013. King holds a Ph.D. from UVA and has also studied or worked in Germany and the United Kingdom, where he learned the art of falconry. His term as President of the Virginia Falconers Association will end later this month. King lives on a hobby farm in Charlottesville, Va.  
Question: Congratulations on this new job at Hampden-Sydney. How did it come about?
Answer: (Hampden-Sydney) received an endowment from an alumnus to create this center, and wanted someone to come in, start, and run the entire program. The prospect of coming in to create programs from scratch that is going to work for students is pretty compelling. I've gotten a lot of support and freedom to create classes and an incubator. Inside a big machine like UVA and Darden, there are restraints and a number of different stakeholders to be considered. Here, they said, "Go for it, we'll get out of your way." It's a pretty amazing opportunity.
Question: I'm sure you'll know more when classes begin (on August 26), but what is your read on how things are going so far?
Answer: We have a really exceptional and supportive faculty here. I've received a lot of support, encouragement, and guidance from the administrators and faculty across so many different disciplines over the summer. So many of the faculty are really excited that I am here and they can see that the students are hungry for this type of education. I'm going to be teaching down-to-earth, nitty, gritty skills for starting a business. The kind of things that aren't always available at a liberal arts college. Students are already calling me up from their homes with ideas. That's what I'm here for – to lay out a groundwork of steps and help them work through the business canvas. Make them confident in taking on risk as they go through the process of starting up a business.
Question: When you look back, how did Christ School prepare you for college?
Answer: I saw so many students in their freshman year really struggle to deal with college life, the rigors of a tough program. For me, it was very easy to slot straight into college. Looking back, I probably felt a bit smug looking at these new students flailing around while I felt I could attack what was being put in front of me. The all-male aspect is really an impressive tool for extracting the most out of students, men, in the classroom setting. I went straight into a co-ed college and could feel (the lack of) that old push on the students, men, the guys in the classroom. There's a sense of collegial competition at an all-male school that I did not experience myself in a co-ed college.