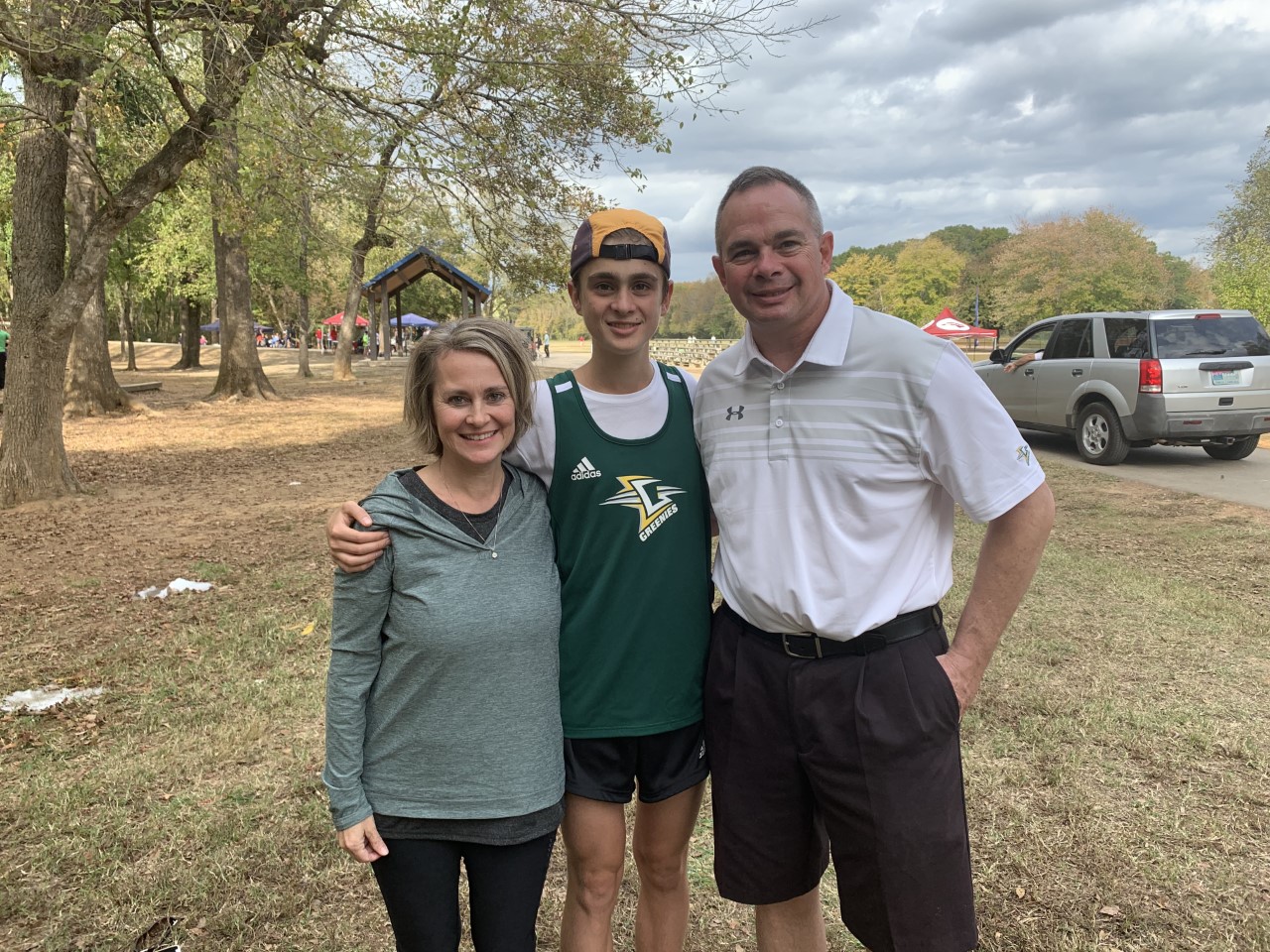 Most mornings, Andrew Hammel '20 can be seen running around Wetmore Circle and other parts of campus as Christ School families are dropping off their sons.
Make that state champion Andrew Hammel as of Friday.
All of the early training on top of his afternoon workouts paid dividends for the senior from Clyde, N.C., at the NCISAA 4-A state cross country meet. Andrew ran his signature race – taking the lead from the outset and never relinquishing it over the course of 3.1 miles through Charlotte's McAlpine Creek Park.
Andrew said he used the final 300 meters to decelerate a tad and simply enjoy the moment of crossing the finish line with his first-ever individual state championship and Christ School's first in the sport since 2007. His time of 15:37 was 39 seconds faster than any other NCISAA boys state champion on Friday and 15 seconds better than 4-A runner-up Christian Landis from Charlotte Providence Day (15:52.50), who was the classification's champ in 2018.
"It's been a long time coming," Andrew said.
"I've been injured my last two track seasons and allowed myself to fade mentally (in the past). All I could think about the entire race is getting back to campus and celebrating with the rest of the guys. I can't wait for that."
Andrew is only the third cross country state champion in Christ School history, joining Andy Taylor '87 and Rett English '08. English and Taylor are both in the Christ School Athletic Hall of Fame. English was a back-to-back state champ (2006 and 2007) who was inducted last spring. 
The Greenies placed third as a team in Friday's race with 82 points. Joseph Visconti '20 landed a spot on the all-state team for the second time, matching his career-best finish (third overall) with a time of 16:05.60. The rest of Christ School's top-seven were Dawson Reeves '24 (16th place, 17:30.40), Rocky Hansen '23 (17th, 17:33.70), Tommy Schleusner '20 (45th, 18:41.90), Jack Cross '22 (66th, 19:26.60), and Ethan Kemp '21 (72nd, 19:47.80).
Providence Day was Friday's team champion (28 points), followed by Durham Academy (69) in second place. 
Christ School was coached this season by head coach Randy Ashley and assistants Emily Pulsifer and Spenser Simrill. The Greenies won the Buncombe County meet for the first time and their first Carolinas Athletic Association championship in 18 years with the aid of Andrew, Joseph, Tommy, and eight more seniors: Jack Fitch '20, Connor Booher '20, Jackson Bewley '20, Joseph Coladonato '20, James Coleman '20, Thomas Doss '20, Miles Gardner '20, and Wyatt Wilson '20. 
Complete results from Friday's state meet can be found at this link.