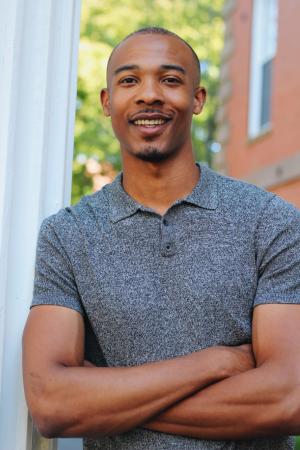 Miles Bowser '15 was due to celebrate two milestones this May, his Christ School five-year reunion and his graduation from Tufts University in Massachusetts. But like so many events this past spring, things didn't go as planned; his Tufts graduation was virtual as was a Zoom mini class reunion hosted by the Christ School Advancement Office (he will have a chance to celebrate his reunion on campus during Alumni Weekend scheduled for April 30-May 1, 2021). Nonetheless, Miles has his sights on the future and a promising position starting in August at Microsoft. A former point guard of the Greenie varsity basketball squad, Bowser was recruited by Tufts after completing a post grad year at Holderness School in New Hampshire. But during his junior year, after some injuries and reflection, he decided to step away from the court and focus on his studies and his major – International Relations. Bowser has waited out the pandemic in Boston and was gearing up for his move to Seattle when he provided this update.
Question: Why did you step away from basketball?
Answer: I always took basketball very seriously and it was pretty much my life for all of high school and a long time before that. Going into college I had that same focus and I think athletics was the best way for me to cement myself into the community at Tufts and feel a network around me. I actually decided not to play one day before practice started, and it was a really hard decision, but my body wasn't feeling that well, and my interest was shifting towards my academics while also trying to find a job going forward. Before, having athletics and sports was kind of a comfort zone for me, and I just wanted to step out of my shell a little bit to see what I could be besides an athlete.
Question: What was it about a major in International Relations that appealed to you?
Answer: Going into Tufts I wanted to take advantage of all the classes that I possibly could. International Relations seemed like the best route in order to do so. I took political science classes, math classes, history classes, and a lot of sociology classes as well. I also thought choosing this major was the best way to attend classes with more diverse students, who came from different backgrounds and had different perspectives.
Question: With unemployment at such high levels, you must feel lucky to have landed a job right out of college. How did that come about?
Answer: I spent this past summer at Microsoft in Seattle as an intern doing communications and product marketing and I hoped to become a full-time employee after graduation. There are a lot of people who work at Microsoft – hundreds of thousands of people – so I knew coming in that I was going to be competing against a lot of people who were already in the company as well as people who were trying to get hired. It presents challenges and opportunities; there are a lot of people you can meet, with whom you can network and grow relationships, but it's very competitive as well, so you have to work hard and be on top of things. I got an offer to come back full-time after graduation to work closely alongside developers in product management. After I move out there in late August, I'm expecting to start virtual for the first couple of months but hopefully things will start to get back to normal towards the fall.
Question: It must have been difficult to end college without seeing your classmates. How did that go?
Answer: It has been tough. When the pandemic first started to unfold a lot of people who were leaving campus were expecting to come back to campus for graduation, but slowly it set in that we wouldn't get a chance to say goodbye to our classmates from the past four years, which is really disappointing. But it's interesting, because I think that over the pandemic, I've actually connected with many people that I hadn't talked to in a while. Mr. Rankin (Christ School's Associate Director of Advancement) put together a Zoom call with about 20 classmates that I haven't seen in years. Zoom has been my way to reconnect with a lot of people over the last couple of months.
Question: How do you feel about your Christ School five-year reunion?
Answer: I can't believe it has been five years since I graduated. I actually graduated from Tufts on the same day in May that I graduated from Christ School. On my mom's Facebook page there were all these pictures of me on Yard A in my green jacket popping up for my five-year anniversary. I'm still in touch with a lot of my classmates and we talk pretty frequently. There's a group chat of about 15 or 20 guys and every day someone sends a message.
Question: When you look back, what are your memories of attending Christ School and how did it prepare you for the future?
Answer: I think it's easy to take for granted how easy it was for us to build friends in that community; we didn't know it at the time, but we were forming relationships that we would have forever. Even today when we get on the phone it's as if we were still back there on campus. I have become more reflective now that it is our five-year anniversary and I realize what a blessing that is. I don't think that everybody can say that about their high school experience. Who I am today goes back to things I didn't realize I was learning while I was at Christ School: chores and being independent; also assimilating yourself into the community and helping to contribute while abiding by the culture that's around you. That's what I miss about Christ School; I feel like I got a great foundation that I have taken with me to this day. Now that I'm graduating from college, I'm starting to realize the small, intricate things that I learned at Christ School and I know that it has left its mark on me and so many other people.