Alumni Share Wisdom During Roundtable
Event in Pingree Auditorium prepares Class of 2018 for college
Christ School seniors will invariably deal with challenges in their first year of college.
Monday was meant to help.
Four members of the Class of 2017 – Michael Reynolds (Florida State), Zach Pulsifer (Georgetown), Vance Stiles (North Carolina), and Siler Sloan (Rhodes, Tenn.) – shared their freshman college year experiences during an Alumni Roundtable hosted by the College Guidance Office.
Director of College Guidance Kirk Blackard said the roundtable has become one of his favorite events of the year. It was held in Pingree Auditorium on Monday, which was the final day of classes for Greenie seniors. Reynolds, Pulsifer, Stiles, and Sloan answered questions for 45 minutes and covered a wide variety of topics. Everything from freshman orientation, dorms, intramurals, Greek life, and dealing with class sizes much larger than the ones at Christ School.
"The best advice anyone gave me is step outside of your comfort zone," Reynolds said. "Go do things you wouldn't normally do. Talk to people you wouldn't normally talk to. You'll find your group. Be outgoing, just get out and do things."
"It's going to be a big transition period. There are going to be times when you are lost. Everyone else in the freshman class will be, too," Sloan added. "The biggest thing is avoid settling into one group. Sign up for anything interesting and stay open to new ideas. I'm on the club rowing team (at Rhodes) which is something I never would have predicted."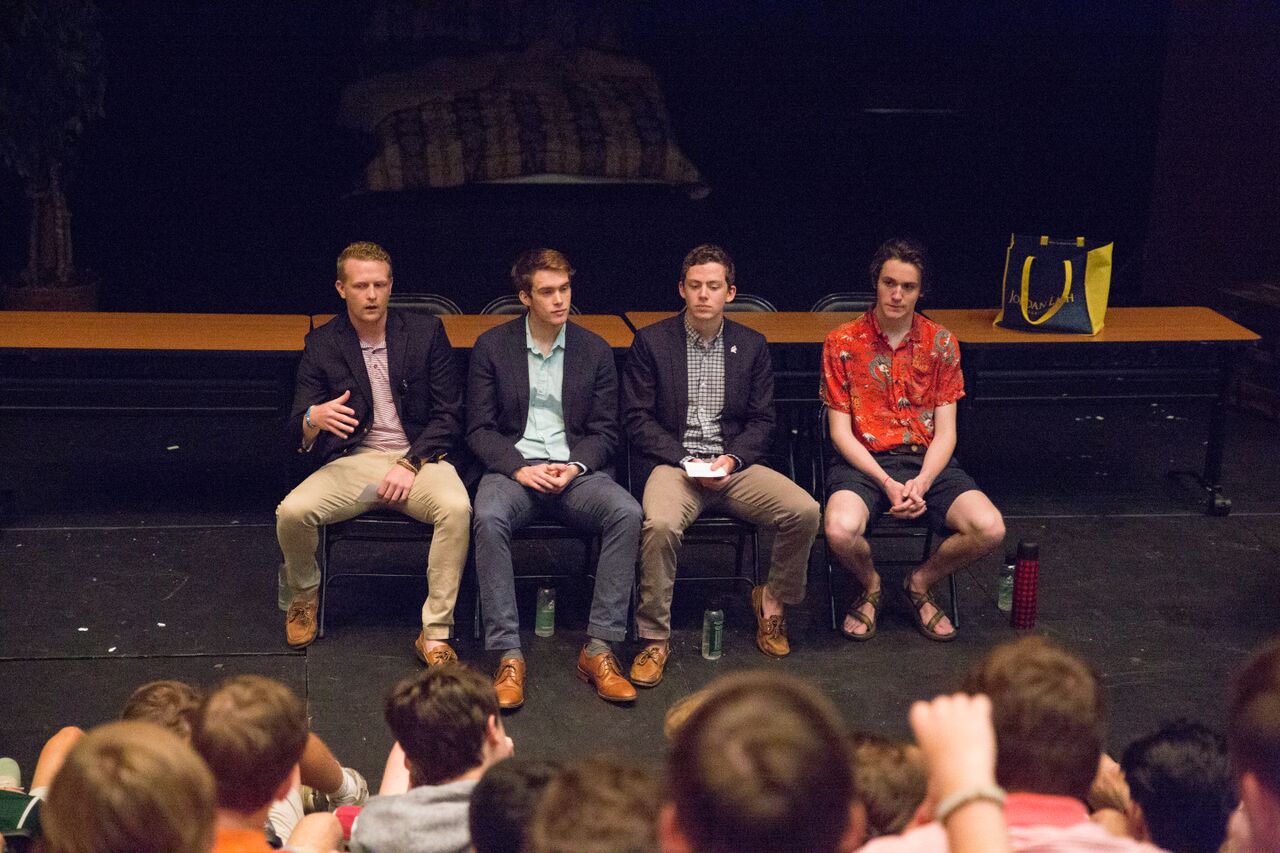 Pulsifer said he works two jobs in addition to his course load – tutoring third-grade students in Washington, D.C. and making phone calls for the Georgetown alumni office.
"I work 20 hours a week and it's a good respite," Pulsifer said. "It's all about yourself in college. You're trying to get somewhere for yourself and that needs to be your mindset. Make sure you are doing things for yourself."
Stiles' extracurricular interests at UNC include a spot on the club cross country team. He advised the seniors to be mindful of others at all times.
"Learn how to be understanding of other people. People are coming from all kinds of socioeconomic backgrounds and it's important to understand everyone's differences," he said. "Go in there and listen to people. Think before you say something. There is always something to do in college. Make yourself a little busy."