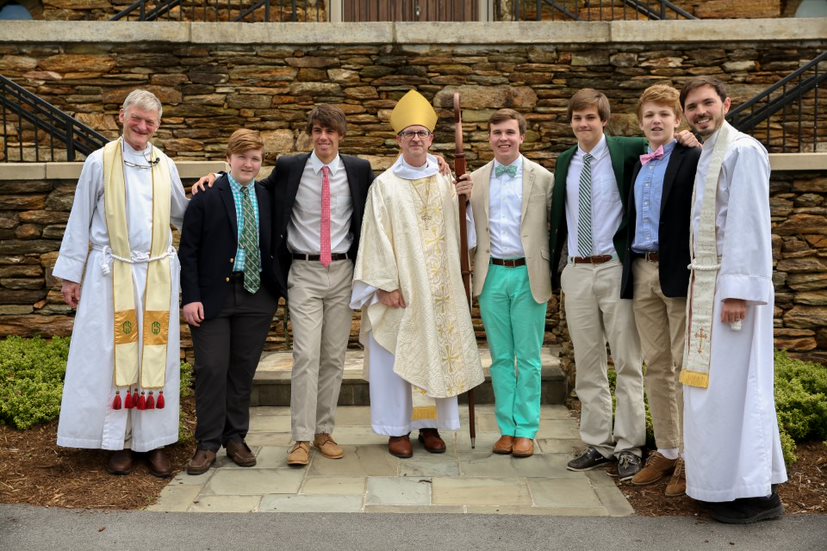 Every visit to campus by Rt. Rev. José A. McLoughlin, Bishop of the Episcopal Diocese of Western North Carolina, is considered a special occasion.
Wednesday fit the bill in more ways than one.
Five Greenies took part in the sacramental rite of confirmation during Christ School's last Eucharist Chapel service of the 2018-19 school year – Ashe Hamrick '21, Connor Booher '20, Mitchell Donahoo '21, Peyton Surface '19, and Spencer Strickland '22. According to the Book of Common Prayer, candidates for confirmation "express a mature commitment to Christ, and receive strength from the Holy Spirit through prayer and the laying on of hands by a bishop."
Later on Wednesday, the Bishop also blessed 300 #RileyStrong bracelets that faculty and students will be wearing to honor the life of UNC Charlotte shooting victim Riley Howell. Howell has a personal connection to Christ School – one of his cousins is Greenie senior Hank Pritchard '19.
In his sermon, McLoughlin spoke of the "sacrificial love" that Howell gave to his classmates on April 30. Howell, an alumnus of T.C. Roberson High in Asheville, was fatally wounded while tackling the UNCC shooter. The Bishop implored the congregation to avoid the temptations of comfort and security. In particular, he urged the Greenies to not be passive bystanders in a world that needs their action and positive example.
"I get so tired of hearing that people your age are the future," McLoughlin said. "You are not the future, you are the now."
The Bishop said that the offering taken up Wednesday for his discretionary fund will go directly to the Riley Howell Foundation. In addition, he has promised to match Christ School's direct donations to the Foundation with $1,000. McLoughlin is a member of Christ School's Board of Trustees and one of his daughters, Alyi, was an actress in last week's production of "Hamlet" in Pingree Theater.