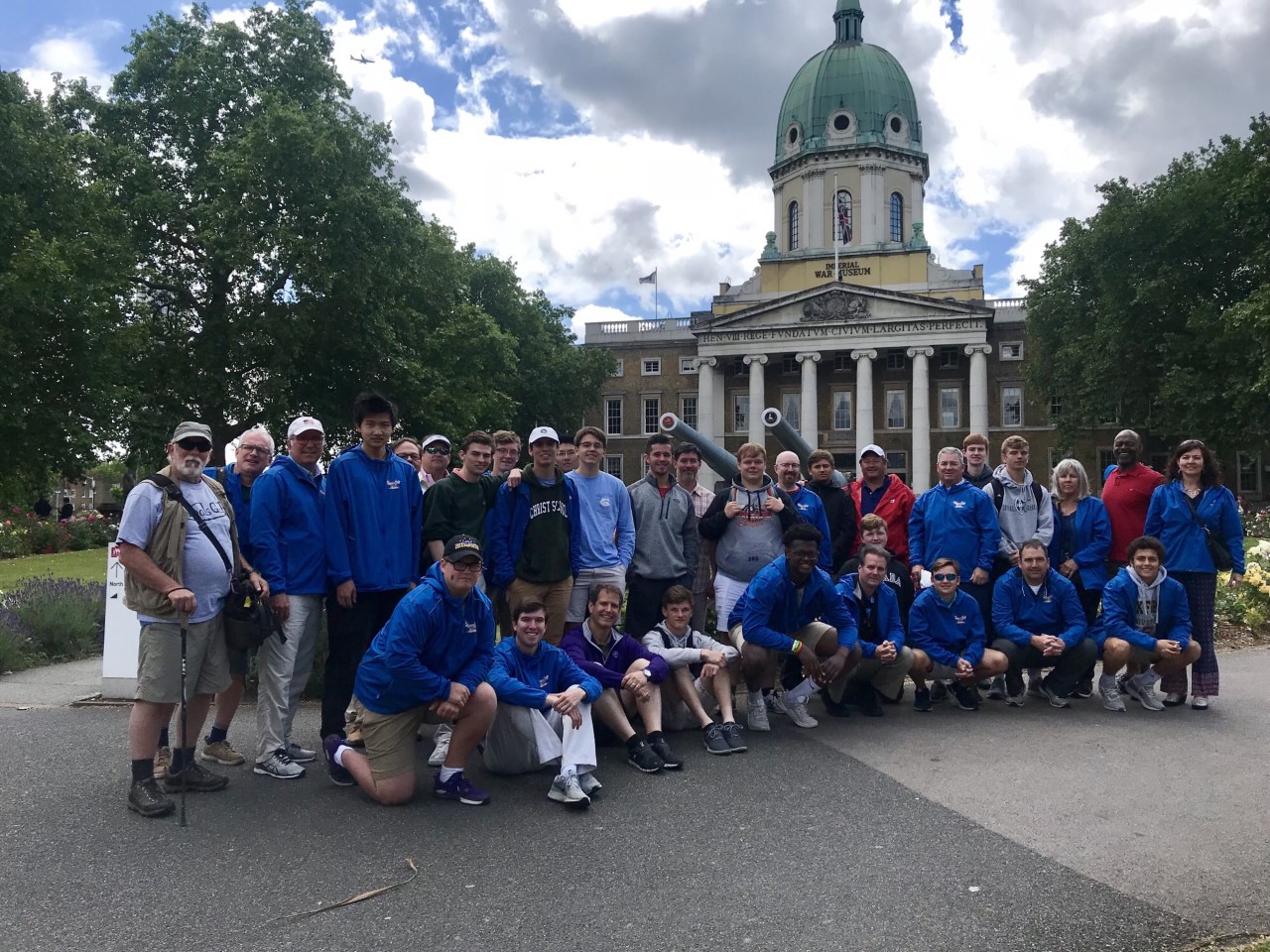 Christ School students and their fathers stood upon the shores of Normandy on June 6, watching the waves lap gently against the beach. The scene could not have been more different 75 years ago, and the Greenies had a firsthand chance to appreciate this solemn contrast.
More than 150,000 soldiers from the United States, United Kingdom, and Canada took part in D-Day, an invasion that helped turn the tide of World War II. There were 4,414 confirmed Allied deaths (including 2,501 Americans). Christ School's trip to commemorate the 75th anniversary of D-Day was very much something that all-involved will never forget.
A group of 40 people from the school saw Amsterdam, Dunkirk, Normandy, and London from June 1-9.
The obvious highlight was being part of the official D-Day anniversary June 6 from Omaha Beach which included speeches from President Donald Trump and French President Emmanuel Macron, multiple aircraft flyovers, a 21-gun salute into the ocean, and a visit to the Normandy American Cemetery and Memorial.
History instructor Olga Mahoney led the trip, providing daily updates and photos.
"We arrived early enough to secure seats and also have time for contemplative visits around the cemetery which sits on a bluff overlooking Omaha Beach," Mrs. Mahoney wrote on June 6.
"We couldn't help thinking how different a place this was 75 years ago from the beautiful, tranquil, and sunny day that greeted us today. The number of sacrificed servicemen resting at this cemetery is simply overwhelming. As students moved slowly among the gravestones, they discovered that many of the fallen were but a few years older than them. The weight of this moment, and their sacrifice for us will forever be etched upon the minds of our boys. It was moving to watch Christ School fathers and sons navigate these graves, this moment, and their emotions together. This is a trip they will talk about together for a lifetime."
While overseas, the Greenies had a chance to converse with WWII veterans and tour other cemeteries and museums related to the conflict. A nice surprise was the group's final day in London when they were part of the Queen of England's 93rd birthday celebration.
The D-Day trip was one of several that Christ School offered this past school year. Greenies visited Northern Finland in November and the Galapagos Islands in March. More photos from the D-Day trip can be found on the school Facebook page.