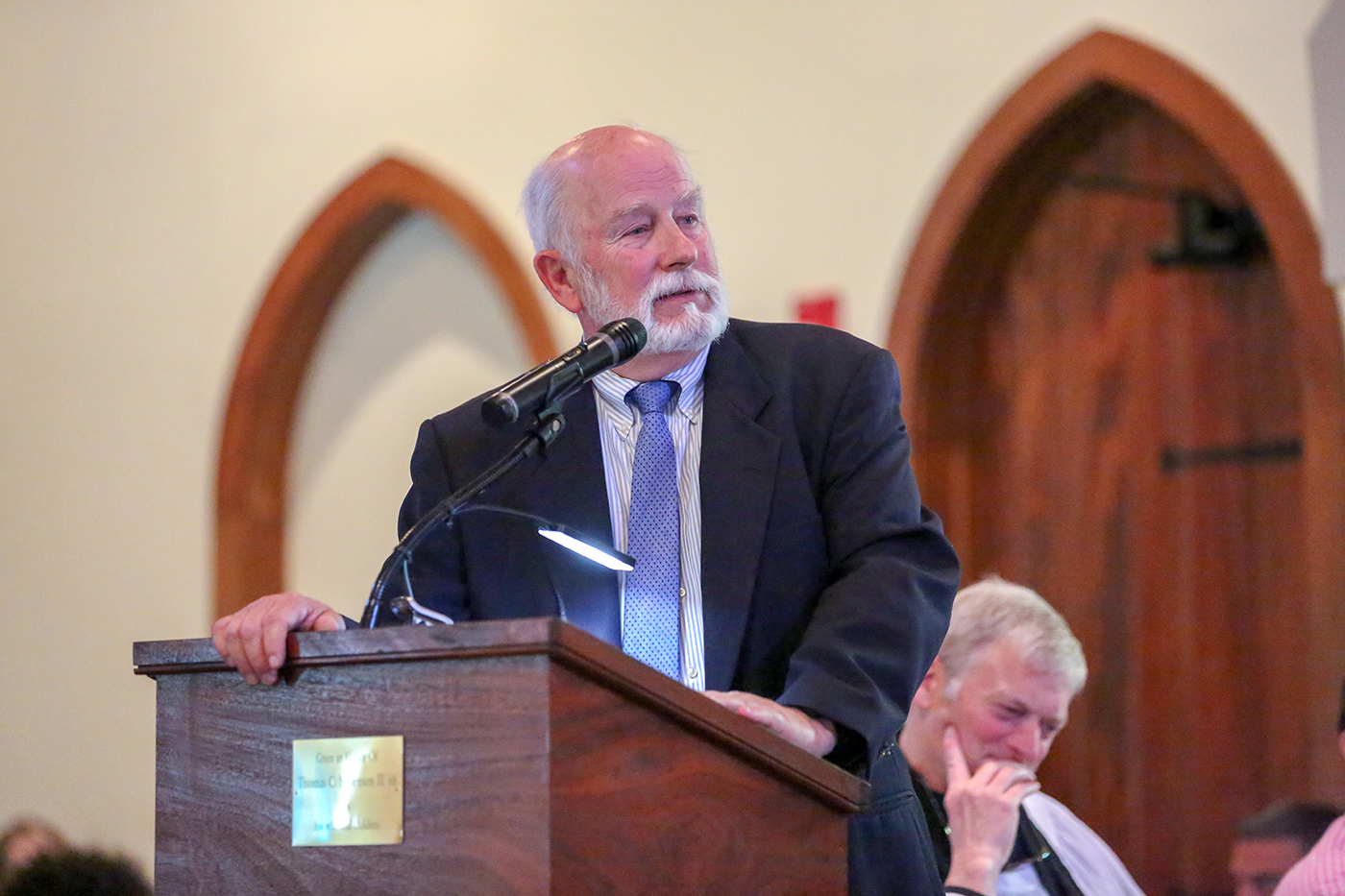 Thursday was a different kind of Senior Speech, but one welcomed by everyone in St. Joseph's Chapel.
Leigh Harris addressed his upcoming retirement after 29 years at Christ School. His words to students and faculty in Chapel were met with rapt attention and then a standing ovation. The speech came following an emotional introduction by Mike Mohney, who described his good friend as "a walking, breathing legacy."
By his estimation, Mr. Harris has driven 20,000 miles per year since first joining the faculty. He remarked that all that time on the highway allowed for introspection in moments like Thursday. Mr. Harris spoke eloquently to the school community without any prepared notes. He talked about the importance of true friendship and never closing any doors of opportunity when it comes to religion or faith. He even poked fun at his own reputation for discipline.
"Reputation is important. What you're known for proceeds you," he told the Greenies. "If you don't like what you're known for, change it."
Along with teaching Math, Mr. Harris has been vital to Christ School's Outdoor Program. He has received the Brevard Mentor Teacher award three times, the school's Teacher of the Year award, and the Wal-Mart Teacher of the Year award. His five decades of involvement in high school wrestling included a stint coaching the Greenies. He received a Lifetime Service to Wrestling Award from the National Wrestling Hall of Fame's North Carolina Chapter in 2018.
Mr. Harris' wife, longtime English instructor Mary Jane Morrison, is also retiring at the end of the 2018-19 school year. Together, the couple have made an impact on boys at Christ School for 59 years. A record turnout is expected for Alumni Weekend, which is Friday through Sunday, in part because so many Greenies want to personally thank Mr. Harris and Ms. Morrison for their service.
"We will miss all of you," he said.
Christ School has created the 100 for 100 Campaign to honor the 100 years of total service given to the Greenies by Mr. Harris, Ms. Morrison, Father Kirk Brown, and Assistant Headmaster Jeff Miles. Gifts in their honor may be made here.