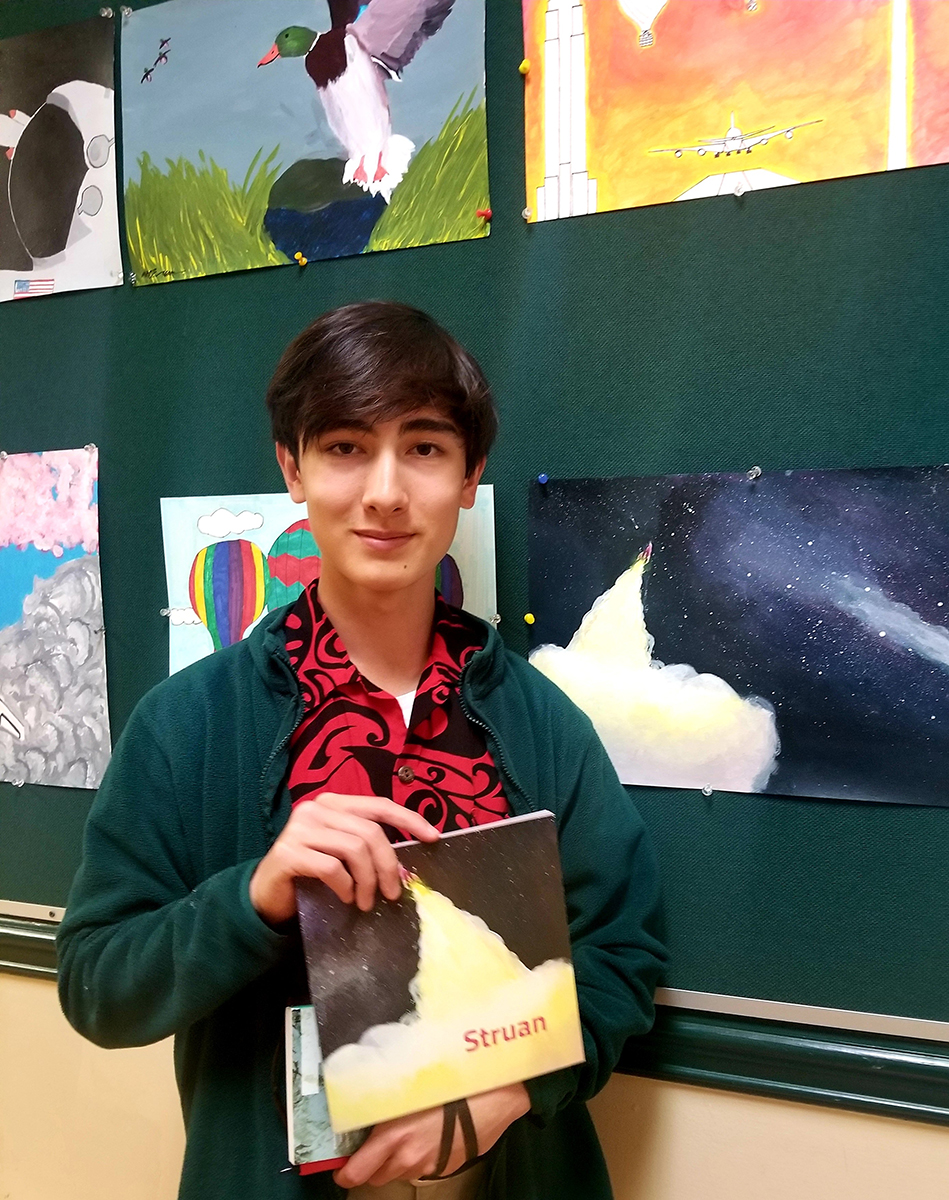 Oftentimes, the most memorable submissions for Christ School's arts and literary magazine come from unlikely sources.
Such is the case again this year. The Struan, a 64-page annual collection of works from Greenie students and faculty, was published last week.
"It's always surprising the way we pigeonhole people. Then, given the chance to share creative pieces, you see a whole different side to them," said English teacher Emily Pulsifer, one of four faculty advisors for the Struan."It's wonderful to see the broad array of offerings every year. This year, especially, we have all different kinds of writing represented. And the club is such a strong, wonderful group. They did far more of the conception for the magazine this year than ever before."
Eighth-grader Ethan Park '23 painted "Rocket," the artwork that was chosen for this year's cover. "Mutual Admiration?," a photo by William David '21, is splashed across the title page.
To coincide with last week's release, Mrs. Pulsifer announced the 2018-19 Struan Writing and Art Awards in Assembly.
For art, the student winners were:
First prize: Zack Grella '19 "Tide Down."
Second prize: Andy Su '19 "Light Movement."
Third prize: Max Masiello '20 "Open Your Ears."
And in writing, the student winners were:
First prize: Mac Gortney '19 "Gravedigger (a personal essay)."
Second prize: Patrick Shea '20 "Broken Glass (an adaptation of a modern parable)."
Third prize: Max Redic '20 "Blink (poem)."
Greenies on the editorial board for the Struan were: Colin Brazas '22, Aaron Chen '20, Thomas Doss '20, Eli Dowler '21, Jacob Dowler '19, Jackson Fender '21, Wyatt Gildea '19, Wilton Graves '21, Lux Haney-Jardine '20, Richard Lytle '20, Max Masiello '20, Tobenna Okoli '22, Max Redic '20, Kobi Selby '19, Hampton Sexton '22, Patrick Shea '20, Parker Stiles '22, and Luke Stone '21.
Jack Adams '20 designed the Struan poster, and other faculty involved in the publication were Aly Bolton, Katie Massaroni, and Kendra Castle.