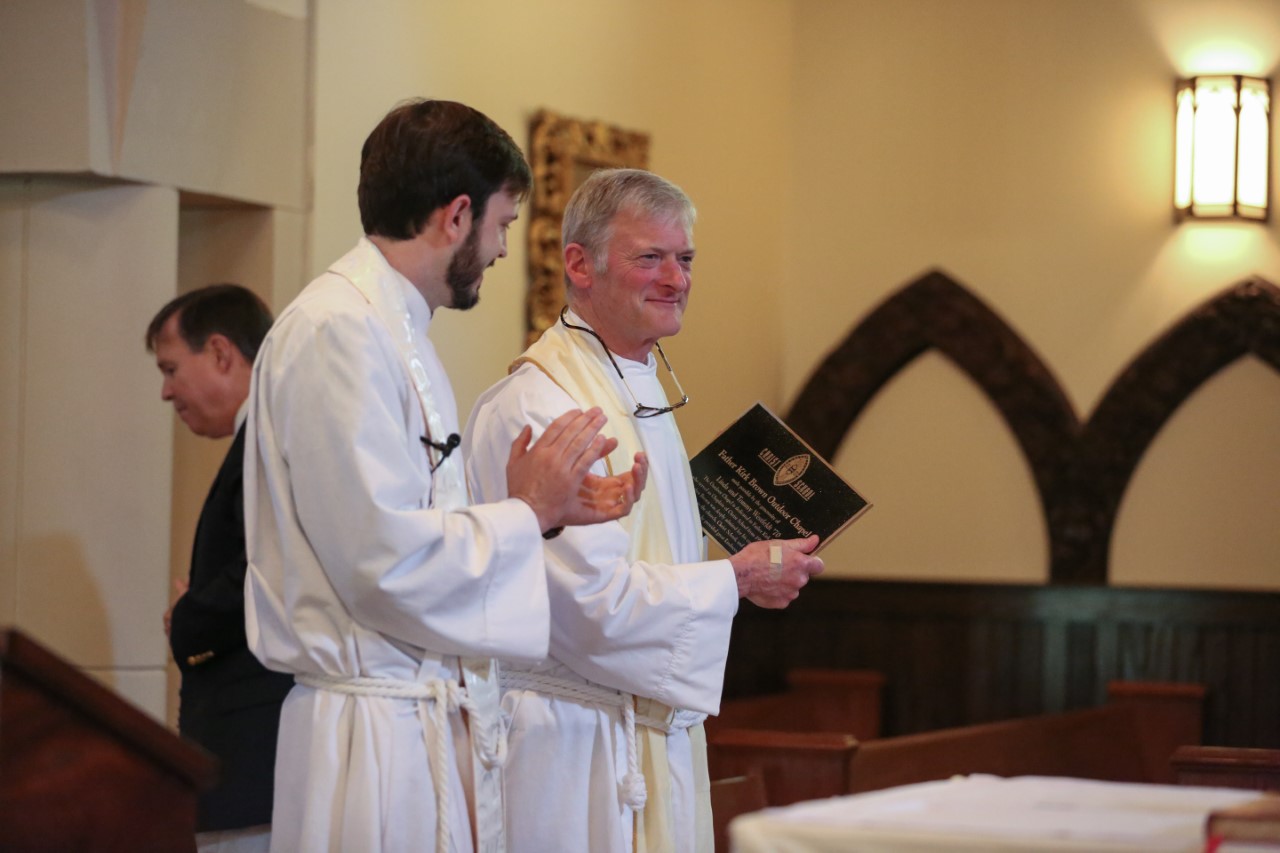 Worshippers have found the natural setting to be spiritually uplifting, tucked away in the woods and within view of a calm lake.
And as of Sunday, the new Outdoor Chapel at Christ School bears a familiar name.
The Father Kirk Brown Outdoor Chapel was formally dedicated during a special Eucharist service inside St. Joseph's Chapel, and later outside, as part of Alumni Weekend.
Naming rights were made possible by a gift from Linda and Tommy Westfeldt '70, an alumnus who spoke highly of Father Brown during the service, as did Headmaster Paul Krieger, new Chaplain John Roberts, and faculty member Mary Jane Morrison.
"You deserve this. You deserve so much more," Westfeldt said. "The students here are so gratified to have been here with you. I want to thank you for all you have contributed to Christ School."
Father Brown is retiring after 24 years, the longest tenure of any Chaplain in school history. Along with handing out bibles to all graduates in Yard A, he will be the featured speaker at his final Commencement on May 19.
"I'm truly overwhelmed," Father Brown. "As hard as it is for me to let go, I am so happy that the community is in such great hands (with Mr. Krieger and Father Roberts). I've never felt better about Christ School."
The Father Kirk Brown Outdoor Chapel can hold about 350 people with permanent seating made of stone, an altar, and a carved cross that was a gift from Father Brown's son-in-law, Jeremy Walters '97, and Father Brown's daughter, Kate. The venue's first service since all its enhancements was conducted last September, but Greenies have taken advantage of warm weather to hold multiple spring Eucharist services outside.
"The spiritual foundation of Christ School is in Christ, but it takes master builders, too," Father Roberts said. "Father Brown has been one of those master builders. We are here today to thank and recognize you for all the amazing time and work that you have put into Christ School."