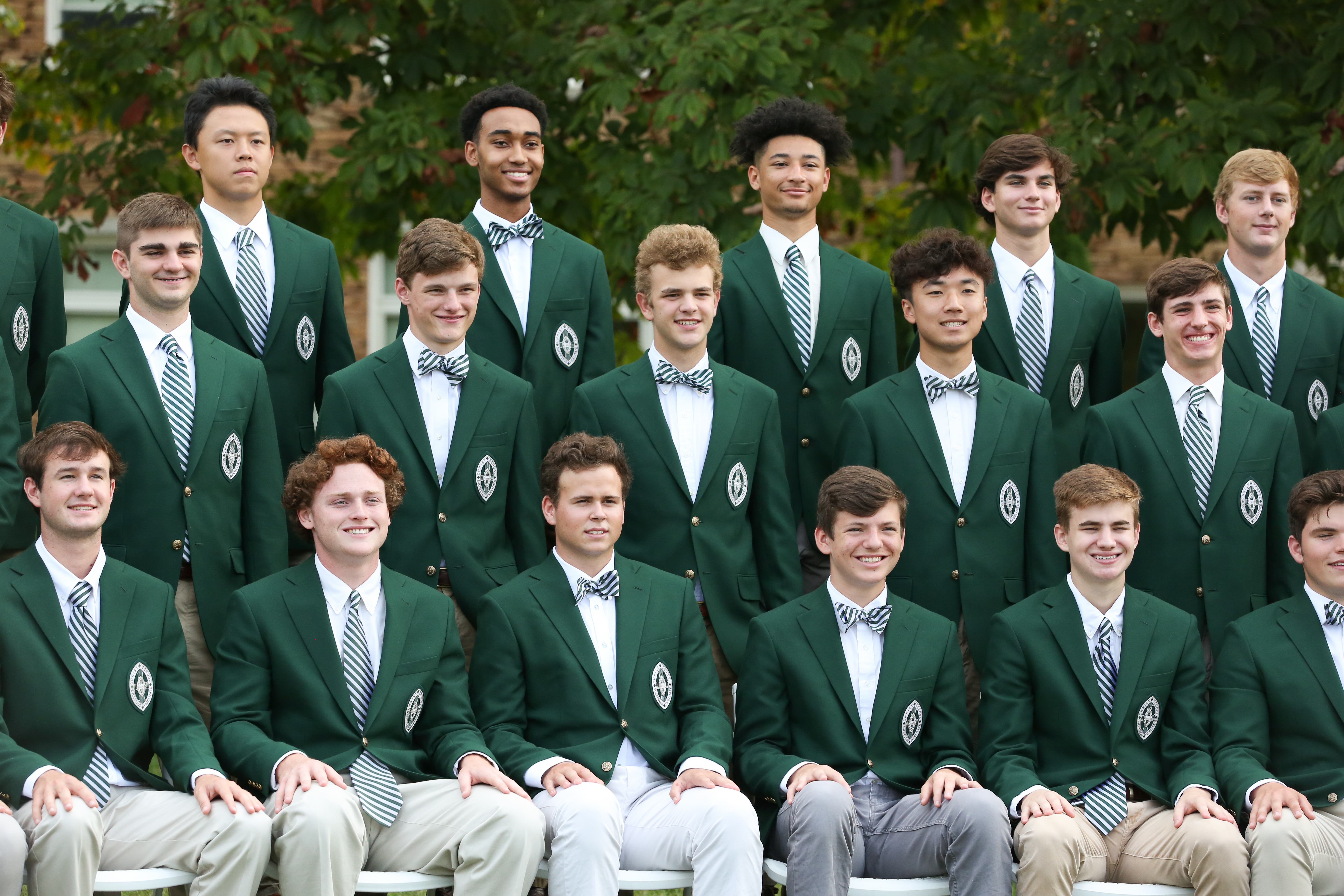 Will DuBose '19 knows it is one thing to be a mature, fully-formed high school student and another to be a newcomer to college. The Class of 2019 should embrace the change on the near horizon, he said Sunday.
Why? Because of the values instilled in the 69 seniors by Christ School – loyalty, compassion, and courage. Will called these the "enduring characteristics" of a Greenie as he provided the Senior Class Address for Christ School's 119th Commencement.
"Everyone here in attendance has helped someone who will walk across this stage in a few minutes," Will said to the crowd in Yard A. "Our gratitude is long overdue."
Father Kirk Brown, who is retiring after 24 years as Chaplain, followed with the Commencement Address before handing out Bibles to graduates one final time.
"Christ School has given me permission to keep learning and I am so thankful for that," said Father Brown, who also talked about the richness of the school community and the value of wisdom. Sunday's Commencement was the 19th for Headmaster Paul Krieger who reminded the seniors in the closing of his remarks to "Be wary of the comfortable life, for it will teach you nothing."
Seniors who graduated on Sunday were (in alphabetical order): Trey Austin, T.J. Bell, Marcus Berger, Doug Bland, Christian Blanks, Hagan Brooks, Gordon Brown, Hale Caffery, Will Clarke, Keyvaun Cobb, Hase Cooper, Nick Dee, William Dodenhoff, Jacob Dowler, Will DuBose, Spencer Dyer, Logan Easler, Hunter Embler, Hutson Ford, Wyatt Gildea, Mac Gortney, Zack Grella, Zack Grinde, Tyler Haldeman, Brad Halvorsen, Jack Harrison, Evan Hoyle, George Janvier, Andrew King, Weller Kreimer, Corey Lavinder, Max LeCroy, James Lilly, James Lopez, Ben Lowry, Hunter Macomber, Coles Manning, Thomas May, Kevin McCarthy, Will McNichols, James Murphy, Sean Murphy, Ross Oakley, Drake Oliver, Pierce Parker, Ted Peterson, Hank Pritchard, Charles Redhead, Kaedin Robinson, Borden Sasnett, Clay Schoettelkotte, Kobi Selby, Eddy Sherman, West Shuler, Thomas Smoots, Kevin Snyder, Andy Su, Peyton Surface, Hunter Tarves, Otto Thom, Charles Thompson, Kojack Thompson, Chad Treadway, Cameron Von Strolley, Michael Wang, Alex Xu, Hance Zhang, Eric Zhou, and Peter Zhou.
The Class of 2019 is headed to college in 21 different states in addition to Washington, D.C. – Alabama, Colorado, Florida, Georgia, Illinois, Louisiana, Maine, Massachusetts, Mississippi, Montana, New York, North Carolina, Ohio, Oklahoma, Pennsylvania, South Carolina, Tennessee, Texas, Utah, Virginia, and Washington.
The Appalachian Brass Quintet provided music for Sunday's ceremony. Prior to the procession, the Angelus bell was rung 119 times, one toll for each year of Christ School's history. Yard A, which is situated between Stolz Dining Hall and Wetmore Hall, is the site of the original school building. Tradition at Christ School deems that other than graduation, no one is allowed to walk on Yard A except workers and those who raise and lower the flags.