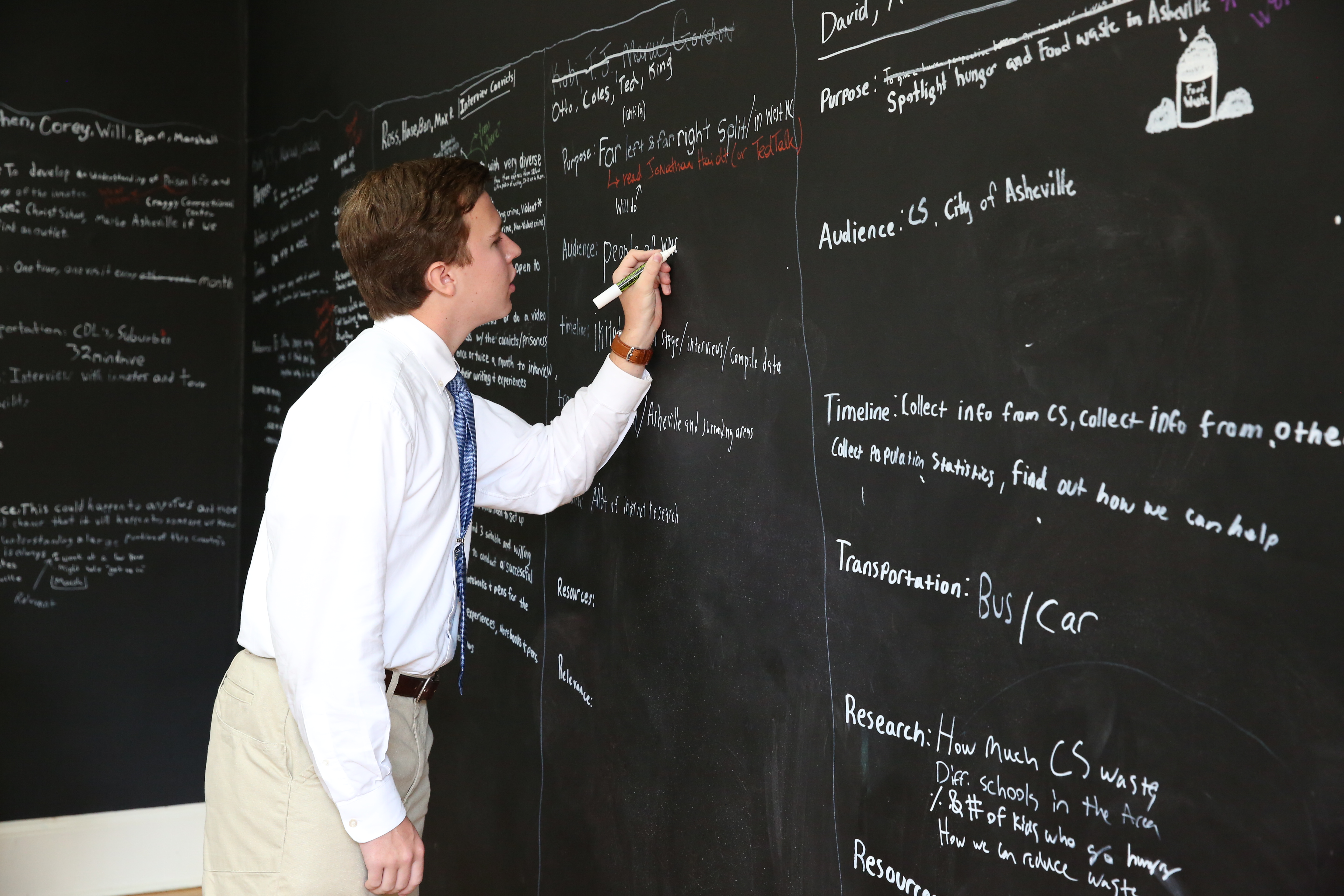 Connor Booher '20 adds to the Chalk Wall in Brent Kaneft's classroom
Chalk Wall an Innovation in Christ School Learning
AP Language students using new addition to Wetmore classroom
Brent Kaneft was not going for a gothic theme, but the color choice was deliberate when Kaneft coated one wall of his Wetmore Hall classroom in black paint over the summer.

The chair of Christ School's English Department calls the Chalk Wall "an analog Google doc," and Kaneft could not be more correct. The 33 boys in his three AP Language classes have been chronicling the start of a year-long project with liquid-chalk markers. And Kaneft himself has spurred them along with comments and questions.
"It has definitely helped with the learning process," Connor Booher '20 said. "A Google doc is great, but this is something much more tactile. When you are able to stand back and physically see where your work is going, it really brings a new dimension to it."
Kaneft came up with the idea for the Chalk Wall after reading the book Make Writing: 5 Teaching Strategies That Turn Writer's Workshop Into a Maker Space by Angela Stockman. "The main idea is to get the boys up and active, to help them visualize what they are doing as a team," Kaneft said. "The Chalk Wall is for everybody. The boys can outline their work, and I can see their progress in real time. Part of what I want to do is find the right design with my classroom, one where it is student-centered. I don't have a desk for this reason. I want the students to feel like this is a place where they can work."
The AP Language students have been using the Chalk Wall to identify one or more research topics of importance to the Asheville community. Some of the topics up for consideration were the recent boom in Asheville tourism, a study on the mountain city's culinary scene, a spotlight on hunger (in particular, an analysis of how much food is wasted in area school dining halls), and a look into the deep divide in local political views. Two groups of boys proposed a study of the prison system, including an interview series with area convicts. Another group wanted to do a "Humans of Asheville" photo-blog modeled after the popular "Humans of New York" project.