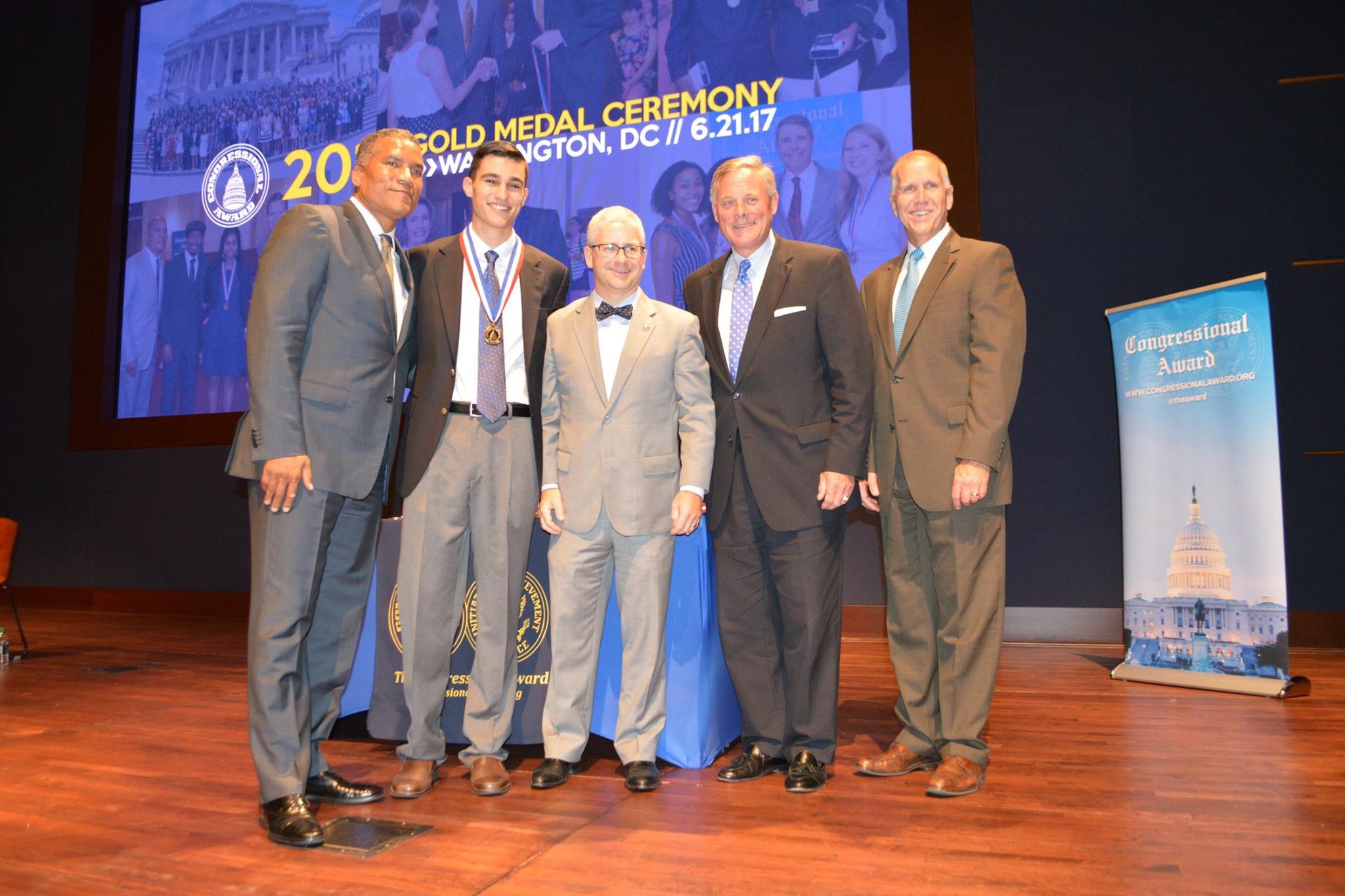 Bennett David '18 with Paxton Baker, Rep. Patrick McHenry, Sen. Richard Burr, and Sen. Thom Tillis


Bennett David '18 Wins Congressional Award Gold Medal
Bennett David '18 was awarded the Congressional Award Gold Medal on June 21, 2017 at a ceremony at the Capitol Building in Washington, DC. After the awards ceremony, Bennett attended a dinner with members of Congress.
The Congressional Award, which remains Congress's only charity, is open to all Americans ages 14 to 23. Participants can earn Bronze, Silver, and Gold Congressional Award Certificates and Bronze, Silver, and Gold Congressional Award Medals. Each level involves setting goals in four program areas: Voluntary Public Service, Personal Development, Physical Fitness, and Expedition/Exploration.
To win a Gold Medal in the program, Bennett completed over 400 hours of voluntary service, over 200 hours of personal development, over 200 hours working on a physical fitness goal, and planned and completed a wilderness expedition that took him on a 95-mile, twelve-day hike in Cimarron, New Mexico. "The toughest part, other than the hours themselves, is you have to correctly categorize what your personal development goal is. It's all about goal-setting and meeting goals by deadlines," says Bennett.
Bennett came to Christ School in eighth grade as a Headmaster's Scholar. At that time, he was already an Eagle Scout and fascinated by STEM subjects, and he was looking for a school that would challenge him while allowing him to continue to pursue these two passions. He found that at Christ School, where he is the captain of a nationally-ranked FIRST Robotics Competition team, serves on the Honor Council, and is a member of the National Honor Society. In addition to the Congressional Award Gold Medal, Bennett has also won the William T. Hornaday Silver Medal, the Harvard Book Award, and the Edward E. Ford Foundation award.
Congratulations, Bennett!