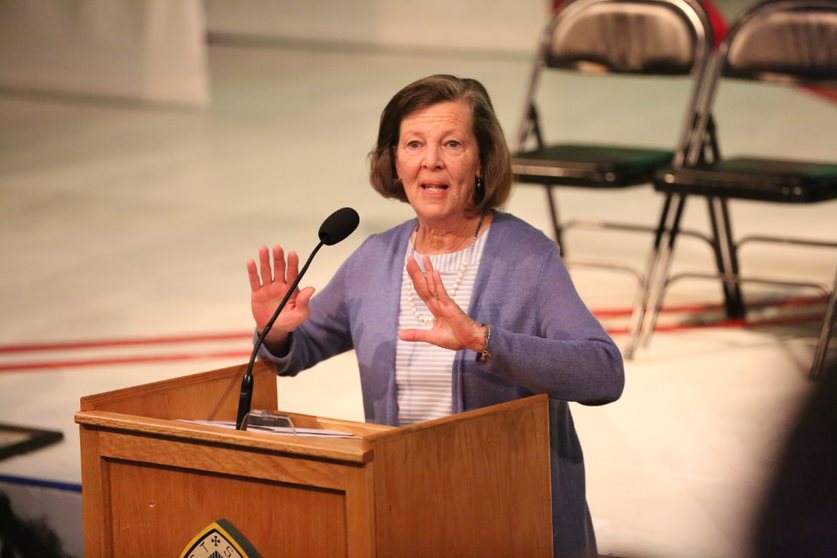 Headmaster Paul Krieger said assuredly that Christ School "will not be the same without them." Pingree Auditorium was full of appreciative Greenies who could not have agreed more.
Tributes to Leigh Harris and Mary Jane Morrison highlighted Saturday's Alumni Awards and Hall of Fame Induction, part of Alumni Weekend at Christ School.
Mr. Harris and Ms. Morrison, retiring faculty members who are husband and wife, received the Headmaster's Award in recognition of their combined 59 years of service to the school. Mr. Krieger called the couple "a classic duo" and "joy to work with."
"It's very humbling to receive an award for doing something you love to do," Ms. Morrison said.
"When I was 14, I knew I wanted to teach and pass on the skills I had to other people," Mr. Harris said. "Everything I've done in my life, everything I've learned in my life, I've wanted to pass it on to anyone who would listen and take it in."
Board of Trustees President Bertram Scott P'08 presented the Alumni Achievement Award to Shannon Allison '79 P'10, P'15 and the Distinguished Alumni Award to Nat Hyde '74. The Distinguished Alumni Award is the highest honor bestowed upon a Christ School alumnus. It recognizes significant professional and personal accomplishments and contributions to society in general and Christ School in particular.
"When my parents dropped me off here in 1970, I don't think they ever would have dreamed I'd be standing here today," said Hyde, a Managing Director at The Bank of America Private Bank who has served on the Board of Trustees since 2007. "As (Father) Kirk Brown often says, may God continue to bless Christ School."
The Alumni Achievement Award is given in recognition of noteworthy accomplishments in professional and personal activities. Recipients are alumni who have achieved prominence in their work, avocation, or service to society. Allison is a dentist with a private practice in Mandeville, La., who also does mission work, mostly with the Free Burma Rangers. He said he was proud to see two legacies alive and well at Christ School – a love for family and education.
Athletic Director Eric Thorp '01 introduced this year's five inductees to the Athletic Hall of Fame – Malik Cooke '07 (basketball), Jamie Locke '07 (lacrosse), Rett English '08 (cross country and track & field), Miles Plumlee '08 (basketball), and Sam Redmond '08 (soccer). Of note, Locke is the first-ever lacrosse player to be inducted. Plumlee, the first Greenie to make it into the NBA, is currently active with the Atlanta Hawks.
Saturday's program also included a "Christ School Now" presentation by Mr. Krieger, which detailed the present state of the school. A student panel of Borden Sasnett '19, Andrew King '19, Evan Hoyle '19, Will Purvis '22, Zack Myers '23 and Ferrell Lail '20 gave their impressions of being Greenies and answered questions.
Alumni Weekend continues Sunday with an 11:30 a.m. service and dedication of Christ School's new Outdoor Chapel to Father Brown, who is also retiring at the conclusion of the 2018-19 school year. Photos from Alumni Weekend will be uploaded to Christ School's Facebook page and other social-media channels in the coming days.