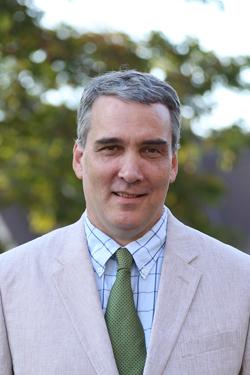 Mr. Jonathan Barnard
Instructor, World Languages
Jonathan Barnard came on board as a World Languages teacher five years ago, under the mentorship of his former director of curriculum at the King Language School and wife, Christ School's Shao-ting Chung.
From 1987 to 1991, Mr. Barnard taught English to native-Chinese speakers in Taipei. He then translated and edited for the monthly Taiwan Panorama there. Since moving to Asheville in 2001, he has worked as a freelance translator for numerous clients in Taiwan, including Taiwan Panorama, the Taiwanese post office, and the Taipei Chinese PEN quarterly, as well as other government agencies and publishers. One of his short story translations has been collected in the anthology Contemporary Taiwanese Women Writers (Cambria Press, 2018), which is read for college-level comparative literature, Asian Studies and Women's Studies classes. Mr. Barnard has also written and edited stories for Asheville's weekly newspaper, the Mountain Xpress.
Mr. Barnard graduated from the University of California at Berkeley in 1985 with a B.A. in History. Additionally, he is a graduate of an all-boys day school, so Mr. Barnard is no stranger to the type of education he provides to Greenies.