Theater Schedule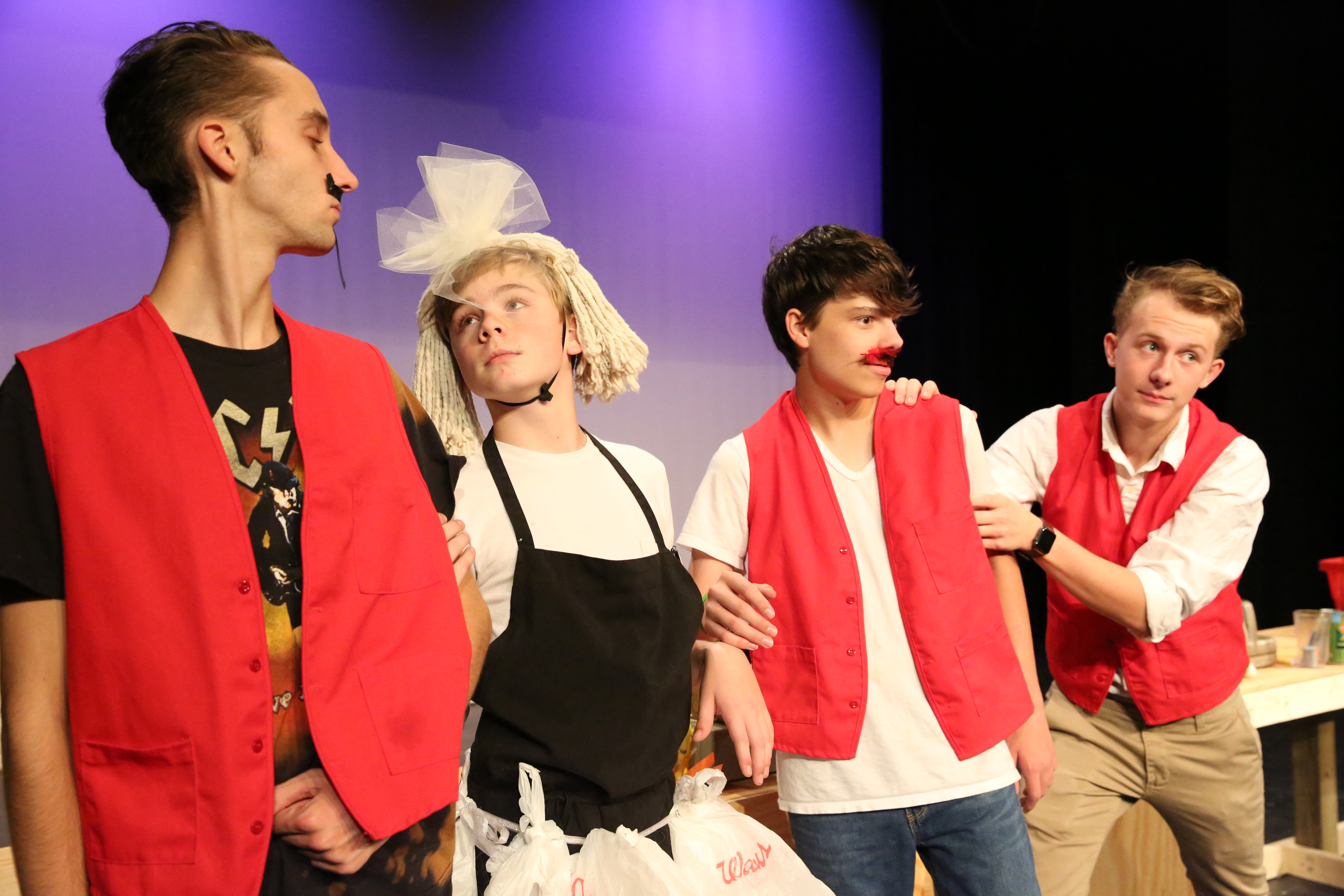 "Paper or Plastic?" A Conspiracy of Bagboys • October 19-21, 2017
For the second year in a row, Mary Dillon's local connections resulted in a truly unique opportunity for the Christ School Theater Department. The fall production "Paper or Plastic?" A Conspiracy of Bagboys is a one act play written exclusively for the school by Asheville's Travis Lowe.
Lowe also wrote Green, which was performed by the Greenies in fall 2016. He is a personal friend to Dillon, who has directed 37 plays at Christ School since 2001. "Paper or Plastic?" will be performed October 19-21 in Pingree Theater. Showtime each night is 7:30 p.m. and admission is free and open to the public. Dillon describes the play as "part Shakespearean satire, part Looney Tunes slapstick."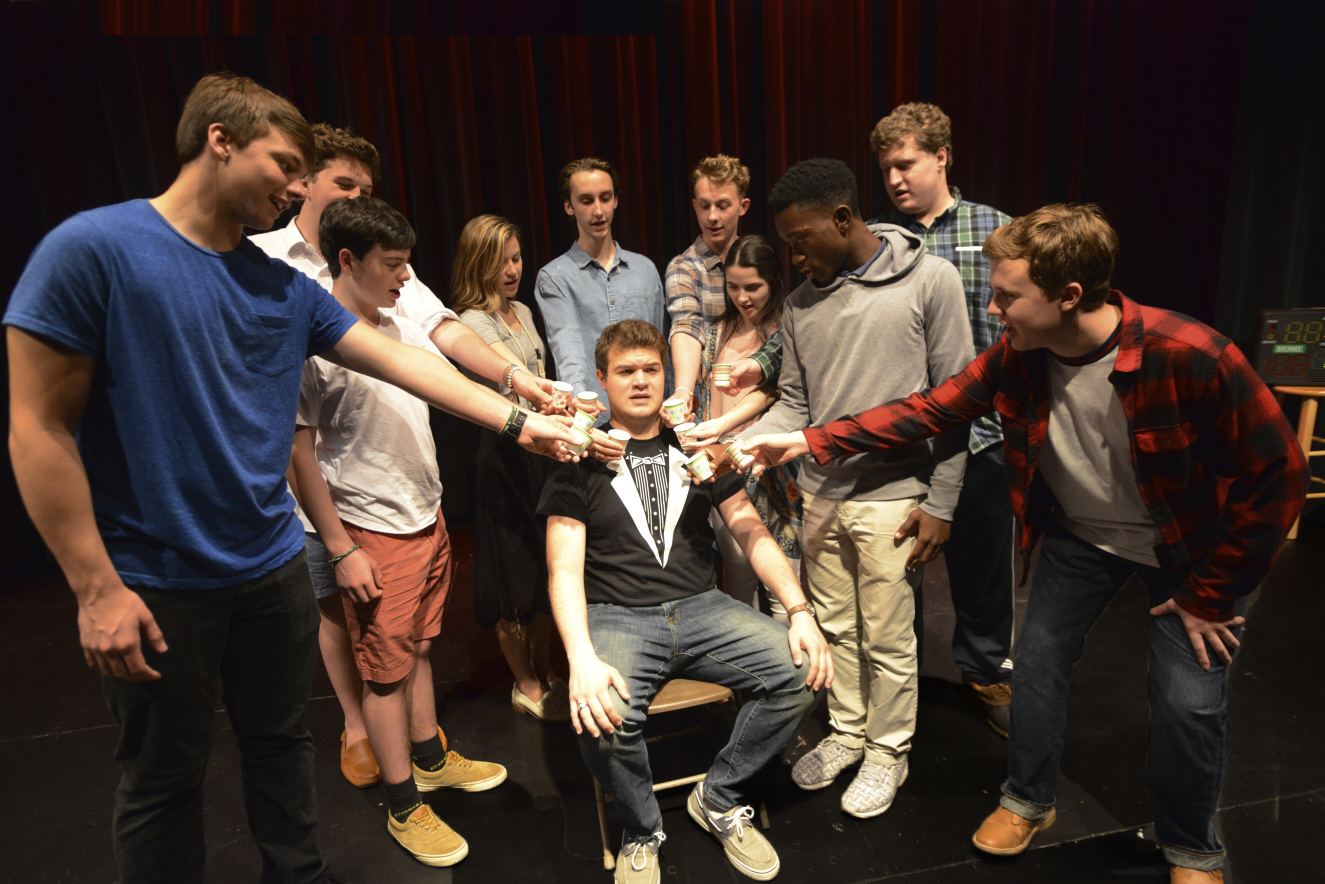 Too Much Light Makes the Baby Go Blind • May 11-14, 2017
Christ School Theater's spring production was the experimental Too Much Light Makes the Baby Go Blind (30 Plays in 60 Minutes) by Greg Allen.
Written by the Neo-Futurists, a Chicago-based improv company, Too Much Light Makes the Baby Go Blind is a zany ensemble experiment that attempts to present "30 Plays in 60 Minutes." Each two-minute play is performed in random order chosen by an interactive audience. The onstage 60-minute timer keeps everyone honest. Can the Neo-Futurist Players get all 30 plays performed before the clock runs out?


And Then There Were None • February 23-26, 2017
In Agatha Christie's classic And Then There Were None, ten strangers are invited to an island by an unknown host. Each has a sordid past. Then, one by one, they begin to die. Each is under suspicion.


Lord of the Flies • May 12-15, 2016
Christ School Theater is proud to present Lord of the Flies by Nobel Prize winner William Golding, adapted for the stage by Nigel Williams.
William Golding's classic novel, a potent allegory about the loss of innocence and the decline of civilization, is brought to dramatic life in Nigel Williams's adaptation. A plane evacuating people from mass terrorist attacks on U.S. cities crashes on a deserted island. The only survivors are a group of schoolboys. By day, it's a tropical paradise of sun and sea; but each night, their dreams are inhabited by a terrifying beast. Myth and nature combine in a dynamic exploration of power, democracy, and the struggle between good and evil that exists within us all. Lord of the Flies brings up many issues central to the lives of today's adolescents – peer pressure, bullying, gang rivalry – in its depiction of reason versus chaos.


An Evening of One Acts • October 21-23, 2016
After last year's success at the North Carolina Theater Conference One Act Play Festival, director Mary Dillon was looking for the perfect short play to show off the talents of Christ School's actors. The rules of NCTC are that everyone involved with the production must be enrolled in the school, which means it must be an all boy show. Because it's challenging to find quality all male scripts, Mrs. Dillon asked a local playwright to consider creating a new work for our boys to produce for competition.
Travis Lowe, an accomplished performer and writer, did just that in his piece called Green. The one act is set in a sci-fi dystopic world where its citizens are given a treatment that stops their bodies from aging at young adulthood. When the group of lads meet up after work at their regular watering hole, a pub next to a monkey house at the zoo, they are joined by a newcomer whom they welcome with jokes and stories. As the "boys" get to know each other, they discover that things are not what they seem. It's a powerful, dramatic work.


The Odd Couple • February 12-14, 2016
Neil Simon's The Odd Couple follows the antics of two mismatched roommates: the neat, uptight Felix Ungar (Thomas Hoefer) and the slovenly, easygoing Oscar Madison (Will Janvier).