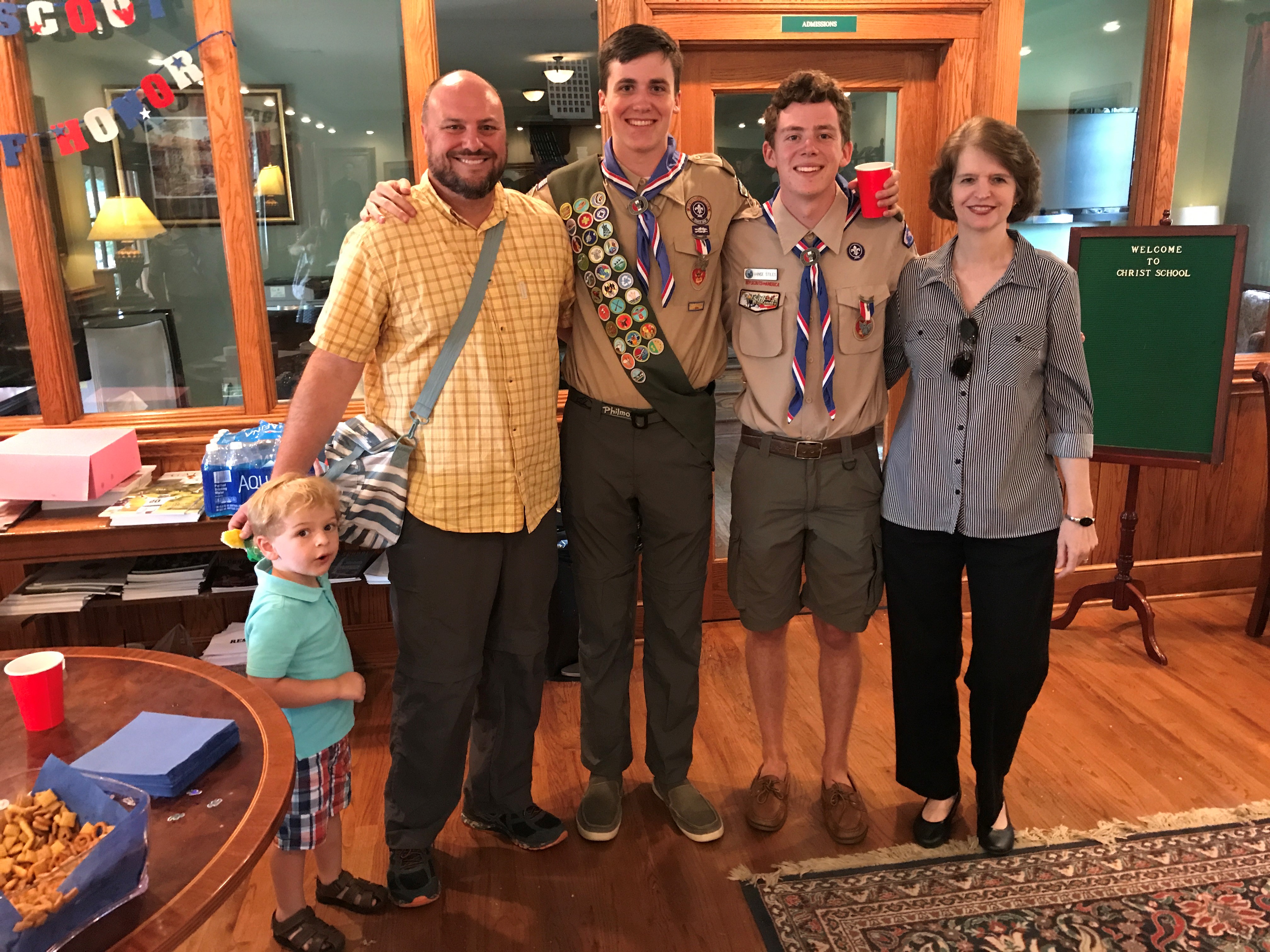 Left to right: History Instructor James Uhler, Siler Sloan '17, Vance Stiles '17, and Math Instructor Sandy Powers




Sloan '17 Achieves Eagle Scout Rank

Recent graduate among scouting elite
Siler Sloan '17 heads off to Rhodes College in Memphis next week, and he will do so as an Eagle Scout. The recent Christ School graduate has earned the highest possible rank from the Boy Scouts of America with a service project in the Montreat area, just outside of Asheville.
Sloan renovated a half-mile walking trail for retirees, removing hazards such as rocks, roots, and overhanging branches. He constructed a bench at the trailhead.
Only four percent of Boy Scouts receive Eagle Scout designation through a program which has been in place since 1911. Sloan, who is from Fairview, NC, had to accrue at least 21 merit badges (he has 31) and submit his service project for review. Once it was approved, he was presented with a medal and badge. Sloan has been a member of Hendersonville's Troop 601 since elementary school.
In his final year at Christ School, Sloan was the Film Club's president, as well as a member of the Quiz Bowl, Cross Country, and Swimming teams. His senior leadership project was in the chapel as Verger. Sloan said he was helped by a number of teachers throughout his four years at Christ School, but thanked James Uhler, Sandy Powers, and Mary Dillon in particular.
Sloan has stayed active following graduation through Christ School's summer work program. In recent weeks, he has assisted the maintenance staff with faculty moves and setting up dorms for the 2017-18 school year. For now, Sloan said he is interested in studying International Business and Economics at Rhodes, which enrolls approximately 2,000 students.