The Galax Leaf
A publication of the Christ School Newspaper
Staff 2014-15: Austin Cooke, Walker Lanning, Andrew Muller, Mason Ward and Coach Mark Moroz
Est: 1901
---
Motley Who?
By: Mason Ward
Motley Crue has done it again. At the Bon Secours Wellness Arena in Greensville, SC, the Crue, along with notorious bad boy, Alice Cooper, rocked the 15000+ fans that came to watch the band on their last tour. With more than 30 years of hardcore guitar riffs and gut busting drums, the rock legends are finally calling it quits, but not without a bang. The night was a spectacle of leather pants, fireworks, and hardcore rock and roll. The climax of the show included a foot stomping drum solo played by world-renowned drummer, Tommy Lee Jones, while the Crue member was suspended upside down above the crowd. In one word Rap God Jeff Smilack described the night perfectly, "Righteous."
---
Media Scaring Public over Ebola
By: Andrew Muller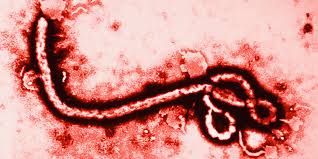 Ebola is an infectious and generally fatal disease marked by fever and severe internal bleeding; it spreads through contact with infected body fluids by a filovirus. For the past month, every time I turn on the news it seems the media has a new disturbing update on the worldwide Ebola epidemic. "Ebola risk minimized, but fear high" was the title of a Boston Globe article. This is just an example of the media over dramatizing the Ebola "crisis". Recently Ebola was discovered in Texas, then Ohio and as of yesterday, New York City. The media has taken advantage of this crisis to boost its ratings. Ebola has spread over social media like it has spread over our countries television programs. People are wide eyed with panic over the thought of the next Black Death coming. The relentless news updates with stories of possible contamination and disaster is not only making people more scared, but it is also doing nothing to help the situation. Efforts should be focused on how to cure the disease, not on scaring people to death.
---
"The Game"
By: Austin Cooke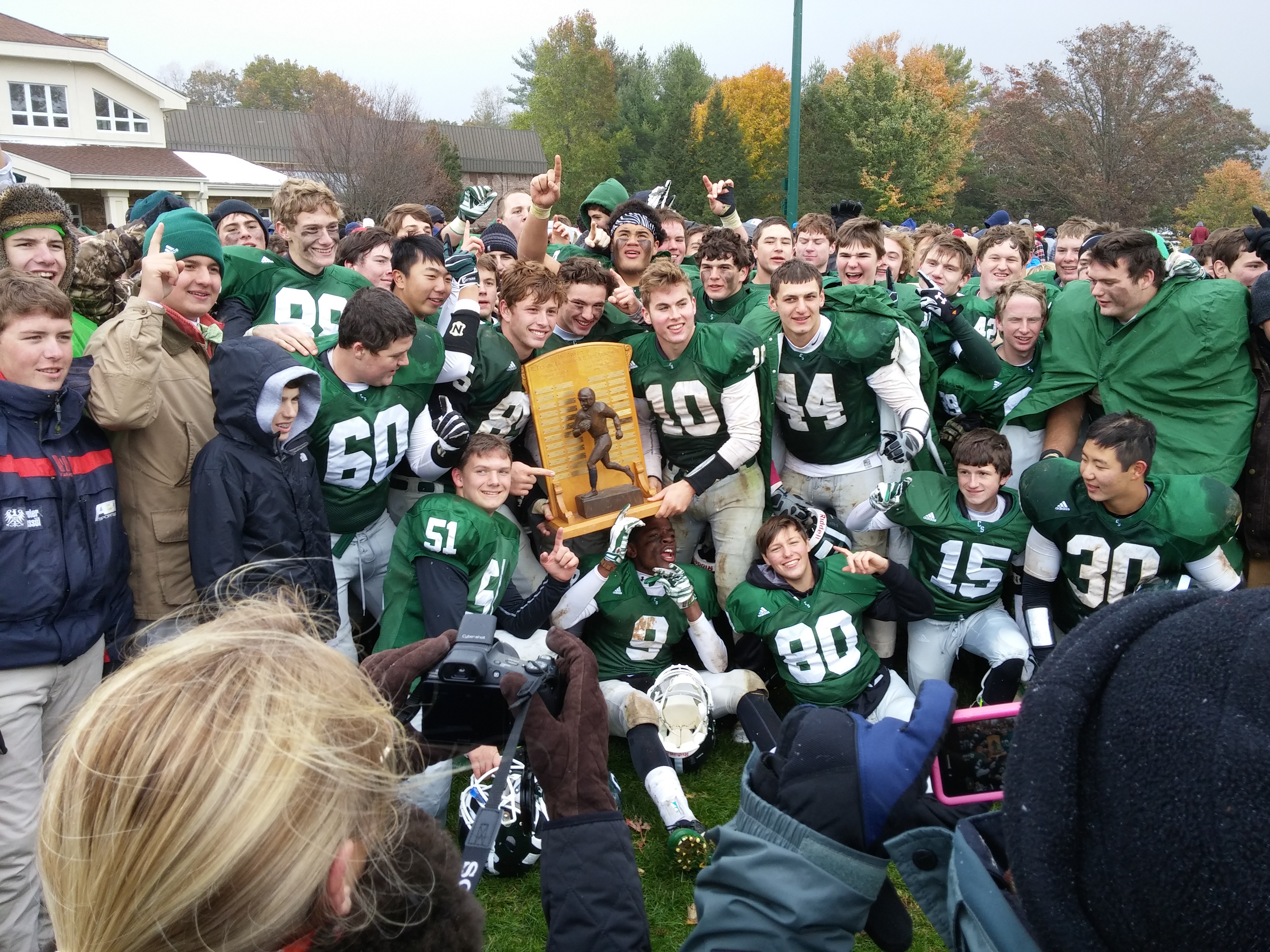 The Game is the oldest Prep school rivalry in North and South Carolina. The meeting between Asheville School and Christ School has been ongoing for 103 years. Asheville School week is an event full of great pride and tradition. Planning and festivities begin on the Sunday night prior to the game and last until someone is holding the Fayssoux-Arbogast Trophy. Monday begins with: wear your favorite jersey day and Mr. Krieger's surprise night (magician). Tuesday is: wear your favorite tie day, followed by senior night, where students are allowed to pull pranks and sleep on yard A. On Wednesday the community wears as much green as possible, followed by what is the best night of the week: Skit night!!! All of the dorms come up with skits and impersonate students and faculty members in a night that can be mistaken as "THE PURGE!" ….It is a very fun night. Thursday is the start of parent/teacher conferences. Later that night is the bonfire, featuring the Greenie football team. As Saturday approaches, everyone is excited and happy that the game is finally upon us. The Greenies and The Blues fight for the Fayssoux-Arbogast trophy annually.
---
Pre-Game Rituals
By: Walker Lanning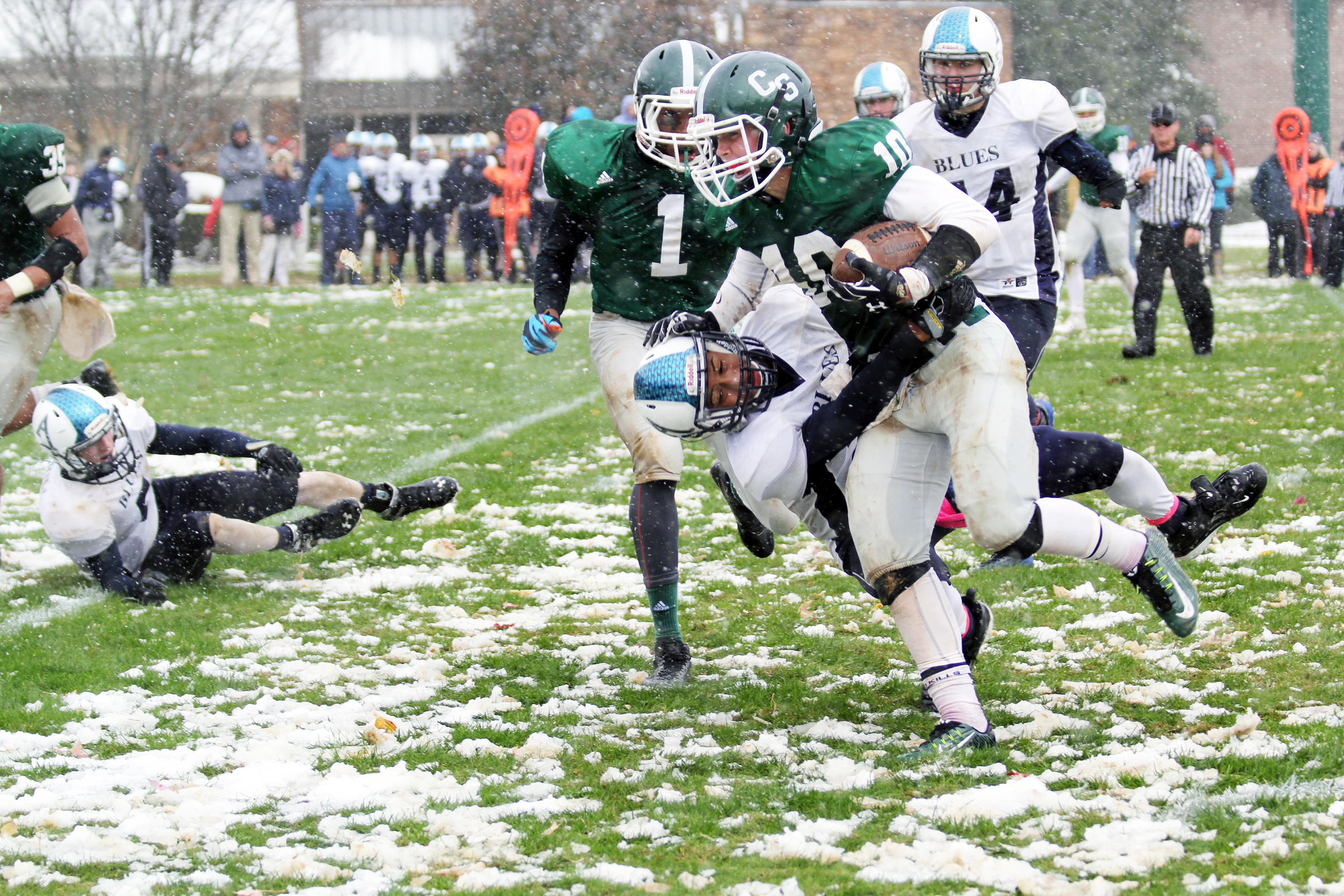 Athletes in today's sports, whether they know or not, seem to have a variety of pre-game rituals. These rituals can range from the most unusual acts to something common that people do every day. The starting quarterback for the greenies, Landon Archangelo, gives us an insight on his pre-game rituals. Landon explains that "I eat at least 4 bananas, and I listen to the Doobie Brother's on Pandora radio, drink only water, and usually try to be in the best mood possible leading up to game day". Landon also gives his opinion on pre-game rituals by further telling us that, "I think everyone has them whether they know it or not. But I don't believe they should be taken to the point to where they rule somebody's mind." Pregame rituals play a very important part in athlete's readiness and preparation before a sporting competition. In the end, it is the athlete playing the sport, not the rituals they practice.
---
Words of Wisdom with Conrad Ma
By Walker Lanning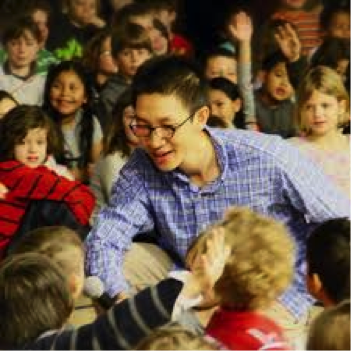 Throughout your prestigious journey at Christ School, there is much advice that one can receive when transitioning to life as a Greenie. There are numerous seniors willing to shine light on any situation, and provide words of wisdom. Conrad Ma, one of Christ school's most well-rounded students, explains that "patience and understanding are key". Conrad also gives insight on how to stay focused by reminding us to "take 15 or 20 minutes at the end of every day and reflect. Then, see if there is anything you could have done better... and fix it". Through these words, we clearly see the seasoned intelligence of Conrad. From him, we can take his philosophy and apply it to improve our time as Greenies.
---
Greenie Eggs and Ham
By Austin Cooke
Why is food so important in a student's daily life? Based on research by livestrong.com, students learn better when they're well nourished. The quality of food our dining hall staff serves up is unmatched. They provide valuable nourishment for students and faculty. In recent years, student approval of the dining hall has skyrocketed.
When asked what the difference was between this year's food and last year's food, Mr. Miles replied, "The only difference in my time here is that the budget has increased, and the menu has changed." The quality of food is now much better because they now have a larger budget, and therefore better ingredients. With the plans of a new dining hall in the works, combined with already popular food quality, members of the Greenie community are in for a treat (pun intended).
---
Ghost Hunters: Harris House Edition
By Mason Ward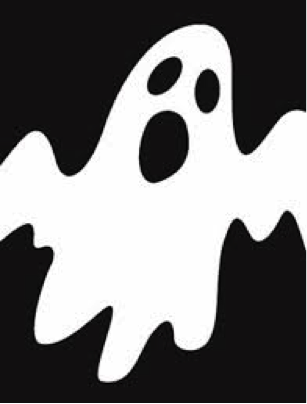 In recent years, rumors of a Ghost haunting the halls of Harris House have been circulating through the Greenie community. The Galax Leaf took a closer look into one survivor's story to find the facts. Mr. Kaneft, previously a resident of Harris House, moved himself and his family out of the dorms over the summer. Many believe it was a simple transition into an easier living situation, but for the Kaneft family, the move was not as simple as it seems. In an exclusive interview, Mr. Kaneft explained that his family was haunted by the dark specter. His family was terrorized by the alleged Ghost: from phantom footsteps echoing through empty halls, to inexplicably dark shadows and slamming doors. At the end of the interview, Kaneft stated that had he stayed in Harris House, he would have been forced to leave Christ School. Since Kaneft's move, Harris House has been fairly quiet. No mention of any lost souls has come from students this year... yet.
---
Faculty Feature: From the Great White North
By Andrew Muller October 3rd 2014
This year Christ School welcomes new English teacher, Joe Dalton. Mr. Dalton is a graduate from the University of Michigan, and taught at a high school in Gambell, Alaska prior to his move to Christ School. Dalton opens up about his experience: "Gambell, Alaska is a village of about 700 people on St. Lawrence Island surrounded by the Bering Strait. The inhabitants were St. Lawrence Island Yupiks, who lived a subsistence lifestyle by hunting marine mammals, and gathering plants and herbs." Dalton describes his teaching experience as "a phenomenal chance for me to learn about another culture and experience a completely different part of America." He went on to say "I enjoyed teaching there but longed to be back in Asheville, where I had been living before I moved to Alaska." Mr. Dalton has recently reached an important life milestone: purchasing his first car! Mr. Dalton is the proud owner of a new Subaru Cross-Trek, "I had to do some research. Cars seem so expensive to me because I have never purchased a car before. I decided on the Subaru Cross-Trek, and I really like it!" In Alaska, there was no need for Mr. Dalton to purchase a car. Mr. Dalton is enjoying his position at Christ School and feels safer in his Subaru Cross-Trek versus walking amongst the Polar bears of Alaska.
---
So Fresh and So Clean: Dorm Renovations
Posted by: Andrew Muller September 19th 2014
The dorms at Christ School are more than just temporary living arrangements. Between the months of August and May, they are home to 180 teenage Greenies. Recently, the dorms have been updated with all new furniture and paint. These improvements have kept students comfortable in their new home so far this year. Landon Archangelo, Class of 2015 of Young House, stated "Christ School did a nice job with the new furniture in the common areas". His appreciation is shared among other members of the Greenie community. John Fulkerson, Class of 2016 said that he was happy about the new common room couches, and is excited about the possibility of a new television in the dorm. While he wished that the dorms had air conditioning, he is pleased to see that Christ School is making improvements to help students feel at home. Coach Moroz, House Parent in Young House, said he thought students were "generally happy" with the dorms and that "Christ school does a good job with making sure that the students feel comfortable."
I, Andrew Muller, have personally observed students taking pride in where they live. They generally clean up after themselves, and the common areas have never looked better. I am very pleased that Christ School is listening to the needs of its students by taking actions to improve our living quarters.
---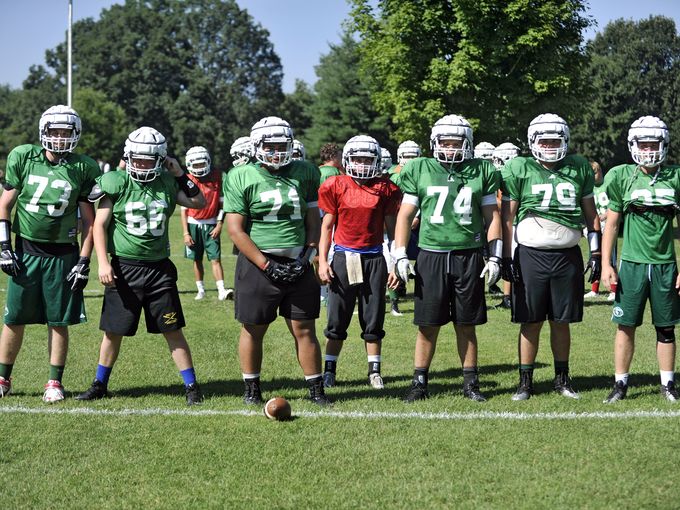 Big Hogs Lead the way for Greenies
(Quarterback Landon Archangelo and starting Offensive Line pose for a picture during early sports.)
The Greenies are senior heavy this year upfront. That is the not the concern for Coach Mark Moroz at all. When asked what his thoughts were about having a young backfield he said; "I would rather have a young backfield with an experienced line any day of the week. When you have veterans upfront it makes the rest of it easy."
There has been talk of this being the best offensive line that you've ever had in your 7 years of coaching and when asked Moroz easily agreed. "We have three major D1 prospects upfront, (Austin Cooke senior, Malik Johnson senior and Walker Lanning senior.) "That is something is unheard of," Moroz added.
With returning quarterback Landon Archangelo, it will make things a whole lot easier with him calling the shots. Starting tailback Sage Holley (Sophmore), John Christ (Freshmen), and Grant Watson (Junior) will have senior Steven Fletcher and junior John Wallas lead the way for them out of the backfield. Wide receiver targets for Archangelo will most likely be, Marcellos Allison (junior), Tyler Redmond (junior), Drew Toliver (junior), Julian Smith (junior), Anthony Vaglica (senior), Jones Barton (senior), and Robert Foster (senior).
Back up quarterbacks Zach Ayotte (junior), Stockton Burk (junior), and Landon Cooke (freshman) will back up senior quarterback Landon Archangelo.
When asked about quarterback Landon Archangelo's maturity level between this year and last year, Moroz said "He has grown tremendously as a leader and QB. He can make plays like I've never seen before." Archangelo looks to have his first ever 1,000 yard passing season. Last year Archangelo threw for 857 yards with 6 touchdowns and 9 interceptions.
The Greenies round out their roster at 45 varsity players. They are set to play Hendersonville Friday September 18th at 7:30 P.M. (Quarterback Landon Archangelo gets ready to call the play into his O-line.)
CHRIST SCHOOL GREENIES 2013 record: 8-3, 4-1. Returning starters: Seven (four offense, three defense)
---
Reducing Concussions One Hit at a Time
Starting on the first day of hitting last football season, the Christ School Greenies have been using the latest technology in concussion prevention, also known as the guardian caps.
"We might look like a bunch of marshmallow's out there, but they work", states Stephen Fletcher class of 2015. The cap brings a soft shell that gives the proper density, stiffness, and energy absorbing properties that reduces initial contact up to 33%.
From these caps we can prevent our sports programs from suffering the long term effects such as: Loss of consciousness, memory difficulty, and possible inner cranial bleeding.
"A blessing in disguise" is how sophomore Sage Holly explained it. It is no doubt one of the latest and greatest things in protecting your head. In addition, our own veteran sports trainer, Ms. Heather commented, "It was a wise investment, and brings awareness to concussions and safety." Senior lineman Austin Cooke said "I am very thankful for the Christ school community for taking the time to seek out and purchase these very useful tools in protecting our sports teams." It is reassuring to know that Christ school is taking the time to invest in their athletes long term health.
---
Meet the Rap Godz
Posted 09/12/14 by Mason Ward
"Hey Coach Campbell, who's the best rapper at Christ School?" "Well that's easy... Jeff Smilack of course!"
Formed in early 2014, the infamous Rap Godz, led by their front man Jeff Smilack and street manager Wade Davenport, have found international success in the harsh world of freestyle hip-hop. Although their lyrical genius is known in such countries as Germany, the Bahamas, and even South Korea, the group has struggled to find dominance on their home turf. Some say this is due to their informal, often random style, yet others say they can't handle the top dog of the Christ School rap game, OG Mr. Uhler.
After an exclusive interview with OG Uhler, it became very clear that he did not feel threatened by the young rap group. With his Beastie Boys punk mindset, mixed with his Andre 3000 flow, OG Uhler has not lost a confrontation with Smilack yet. He has held onto his title as the Christ School freestyle King. Ulher felt comfortable enough in this position to even give a few words of wisdom to the young challengers, " It's too easy, come at me harder."
Hungry for success, the Rap Godz are sure to take this to the next level. For these young bloods, the game is life. When asked for a response to OG Uhler's challenge, Jeff Smilack had this to say, "OOOOHHHHHH it's on Uhler!"
Buckle your seatbelts Christ School; this rivalry could get ugly.