Our Publications
Discover Christ School
Learn about life at Christ School with our viewbook, published summer 2013:
Christ School Magazine


The Christ School Magazine is published twice a year and features current news of the school, alumni events, features and class notes. Send your articles and/or photos to Donna Kinney, Christ School Magazine Editor, 500 Christ School Road, Arden, NC 28704. View previous editions of the magazine here.
Struan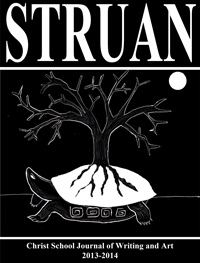 The Christ School community is brimming with talented artists and writers, and nowhere is this more evident than in the Struan, the school's annual journal of art and creative writing. On its pages, you'll find the inspired creations of students and faculty.
View all editions of the Struan here, or read the 2013-14 Struan below, and learn more about the Struan here.
The Centennial Angelus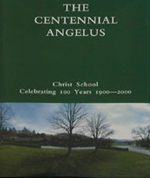 The Centennial Angelus is a coffee-table book that commemorates the first 100 years of Christ School's history through photographs and anecdotal narratives provided by David W. McCullough '45 and R. Reed Finlay '58 It also has an update on the school and the needs of today's boys written by former headmaster Fr. Russell W. Ingersoll. George McAden '43 organized the photos. The book can be obtained through the Christ School Advancement Office (828) 684-6232 ext. 103 or the Bookstore, ext. 133.