Christ School's Theater Program
Christ School produces three productions every year, often a musical and two plays. Recent productions include the ambitious and outrageous "A Funny Thing Happened on the Way to the Forum," the old favorite "The Importance of Being Earnest," and "Rumors."

Productions take place in Pingree Theater, which boasts a full proscenium stage, dressing rooms, lighting system, and excellent acoustics. This gives you room to explore set design, lighting, and sound techniques as well as acting. It also seats more than 250 people, which allows you to present your work to the entire Christ School community as well as the general public.
Putting on a play is a real-life skill that brings together academics, athleticism, and professionalism. Through Christ School's Theater Program, students are exposed to opportunities including technical work, set building, and lighting in addition to acting. Theater Programs improve scholasticism while also building confidence and leadership, teaching self-discipline, promoting communication, and increasing compassion - it is a vital element to a well-rounded education.
On February 23-26, 2017 at 7:30 pm the Christ School Theater Department will perform Agatha Christie's classic And Then There Were None.
Ten strangers are invited to an island by an unknown host. Each has a sordid past. Then, one by one, they begin to die. Each is under suspicion. We hope to see you there!
After last year's success at the North Carolina Theater Conference One Act Play Festival, director Mary Dillon was looking for the perfect short play to show off the talents of Christ School's actors. The rules of NCTC are that everyone involved with the production must be enrolled in the school, which means it must be an all boy show. Because it's challenging to find quality all male scripts, Mrs. Dillon asked a local playwright to consider creating a new work for our boys to produce for competition.
Travis Lowe, an accomplished performer and writer, has done just that in his piece called Green. The one act is set in a sci-fi dystopic world where its citizens are given a treatment that stops their bodies from aging at young adulthood. When the group of lads meet up after work at their regular watering hole, a pub next to a monkey house at the zoo, they are joined by a newcomer whom they welcome with jokes and stories. As the "boys" get to know each other, they discover that things are not what they seem. It's a powerful, dramatic work.
This unique opportunity allows students to work with a playwright and be the first to bring to life a brand new play. A second show, a cutting of the comedy Greater Tuna by Ed Howard, Jaston Williams, and Joe Sears, will also be performed and entered into NCTC. The Evening of One Acts ran from October 21-23 at 7:30pm in Pingree Theater.
Christ School Theater is proud to present Lord of the Flies by Nobel Prize winner William Golding, adapted for the stage by Nigel Williams. This play, not often produced in the United States, is directed by Mary Dillon with Artistic Direction by Sarah Baldwin. Lord of the Flies runs May 12-15 at Pingree Theater on the Christ School campus. Performances begin with a matinee on Thursday, May 12 at 4:30. Evening performances are Friday, Saturday, and Sunday at 7:30 pm. Admission is free and open to the public.
William Golding's classic novel, a potent allegory about the loss of innocence and the decline of civilization, is brought to dramatic life in Nigel Williams's adaptation. A plane evacuating people from mass terrorist attacks on U.S. cities crashes on a deserted island. The only survivors are a group of schoolboys. By day, it's a tropical paradise of sun and sea; but each night, their dreams are inhabited by a terrifying beast. Myth and nature combine in a dynamic exploration of power, democracy, and the struggle between good and evil that exists within us all. Lord of the Flies brings up many issues central to the lives of today's adolescents – peer pressure, bullying, gang rivalry – in its depiction of reason versus chaos.
The strong ensemble cast features Daniel Beale as Piggy, James Turley as Ralph, Trevor Murrah as Jack, Preston Coleman as Simon, Townshend Budd as Roger, Belk McDill as Bill, George Janvier as Maurice, and Alejandro Arguindegui as Henry. Joining the cast from off campus are three young actors, Eli Dowler and Wilton Graves from local Cane Creek Middle School, and Clarke MacDonald, homeschooled. All are 7thgrade students who will attend Christ School next year as 8th graders.
The theater artists and technicians bringing this island world to life are led by Ms. Sarah Baldwin and include Chris Schiebout, Daniel Zhang, Braxton Poole, Max Dressler, and Thomas Bolick. A new team that just formed this spring, the Journeymen, helped construct the set and solve design challenges. This group of students led by Mr. Ben Dowling and Mr. Ross Weathersbee built the elaborate set in just two weeks.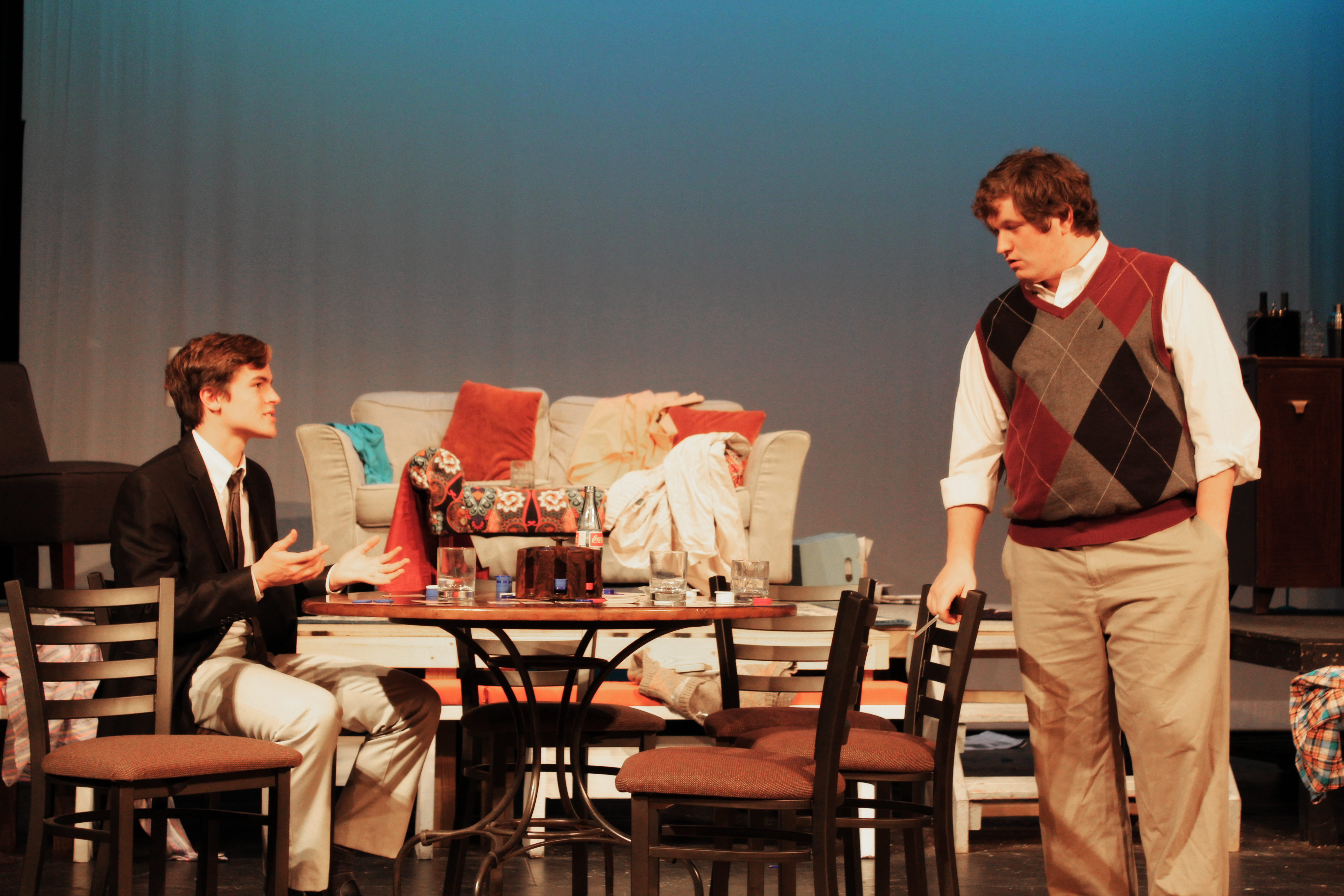 On February 12, 13, and 14 at 7:30 pm the Christ School Theater Department will perform Neil Simon's The Odd Couple. The play follows the antics of two mismatched roommates: the neat, uptight Felix Ungar (Thomas Hoefer) and the slovenly, easygoing Oscar Madison (Will Janvier).
Actors Will Janvier, Thomas Hoefer, Kyle Luce, Preston Coleman, Davis Crook, Hase Cooper, Devin Hickman, and Katie Stevens bring this classic comedy to life. Technical Director Felice Stokes leads the tech crew (Chris Schiebout, Townshend Budd, Finn Bridgeford, John L Helton, and Joe deLoach). Music Provided by Tony Sun, Braxton Poole, and Joe Dalton, with a special performance by Kiffen Loomis. The show is directed by Marshall Baltazar.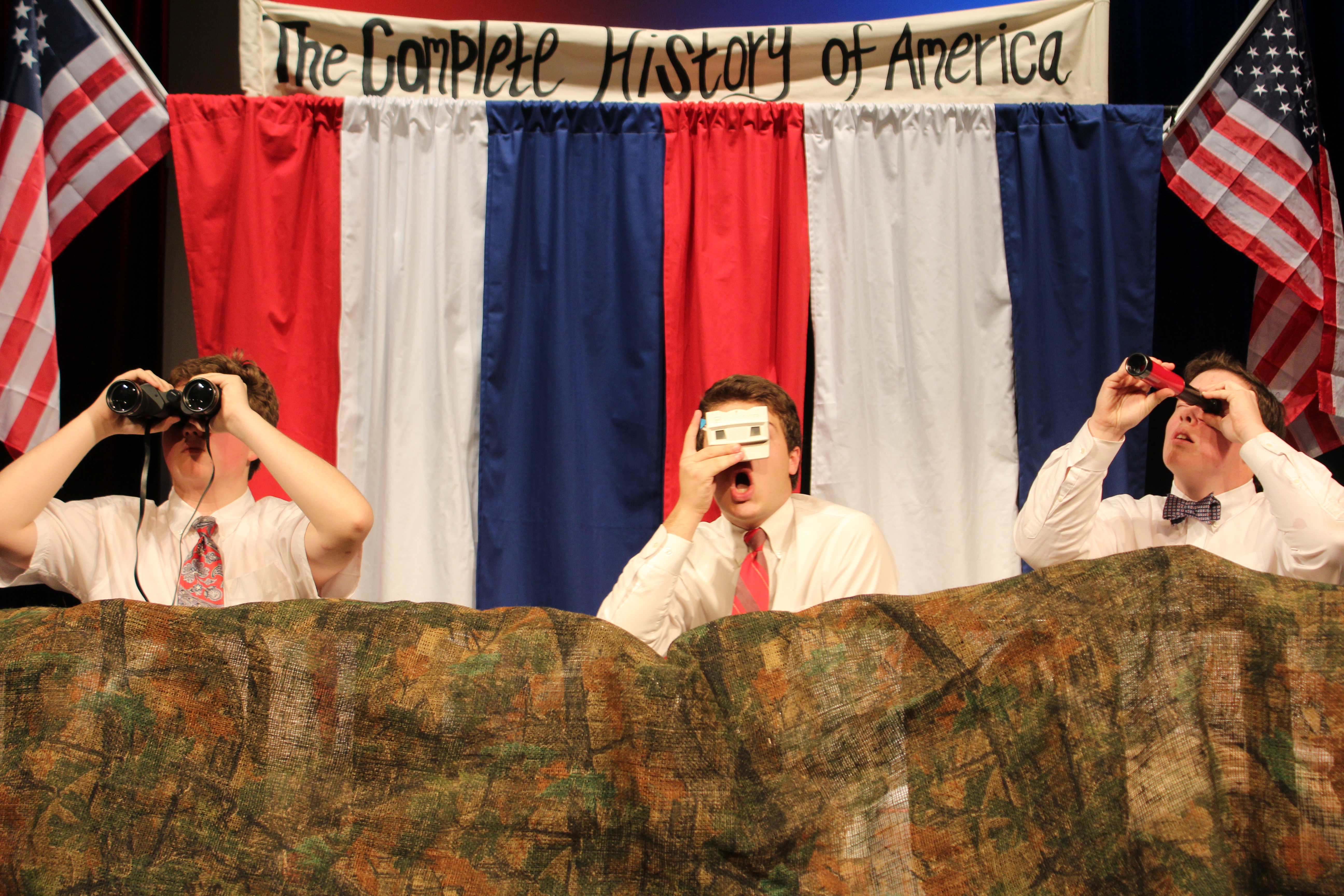 If you don't know much about American history before seeing Christ School's fall production of The Complete History of America (Abridged), you won't leave much wiser. But actors Daniel Beale, Preston Coleman, and Trevor Murrah aren't too concerned with that – their goal is to keep you laughing. They condense 500 years of American history into one 90-minute show pumped full of zany, slapstick humor and juvenile antics. From the Bering Straits to Barack Obama, it's a fast-paced show bent on delivering whacky, pun-riddled American history in a hurry. You'll have the most fun if you leave politics behind and bring a forgiving sense of humor — and possibly a raincoat.
Theater technicians Townshend Budd, Ian Song, and Chris Schiebout worked with Ms. Sarah Baldwin on the set and props, in addition to light and sound design. The show is directed by Mary Dillon.
The show performs October 23-25 at 7:30 in Christ School's Pingree Theater. Admission is free.
Christ School Theater's Spring production is the epic The Three Musketeers. The adaptation by Ken Ludwig is based on the timeless swashbuckler by Alexandre Dumas, a tale of heroism, treachery, close escapes and above all, honor.
It is the story of D'Artagnan, who sets off for Paris in search of adventure with his sister, Sabine. His encounters with the famous Musketeers, Athos, Porthos, and Aramis in addition to tangles with Cardinal Richelieu and his minions, Rochefort and Milday gallop along with humor, excitement, and lots of fun.
Christ School students are joined by students from Asheville and Hendersonville, and have been trained by a professional fight director to perfect their stage combat and fencing techniques which will be used in the perfomance. You won't want to miss this extraordinary production!
Performances are May 7-10 at 7:30 in Pingree Theater. Admission is free.
Charley's Aunt will be performed on February 13, 14, & 15 at 7:30 p.m. in Pingree Theater at Christ School. The comedy farce, written by Brandon Thomas was first performed in London in 1892. It broke records for the longest running play of its time. It had equal success when it arrived to Broadway in 1893. This classic comedy has delighted audiences since those first performances. The amazing cast includes excellent performances by Christ School students: Will Janvier, Robert Bonds, Trevor Murrah, Preston Coleman, Patrick Fitzsimmons, and John Cheney. This show is sure to please audiences of all ages. It's not to be missed!
General admission is free
Christ School Theater presents their 2014 Fall Musical: Little Shop of Horrors
October 23-26, 2014 7:30 pm in Pingree Theater, $10 general admission.
Christ School Theater's fall musical this year is the campy and sweet Broadway hit, Little Shop of Horrors. Based on Roger Coreman's infamous 1960s B horror movie of the same name, Little Shop tells the story of Seymour, a poor clerk in a low-rent flower shop, who discovers a new species of plant, fortune, and fame all at the same time. Unfortunately, the plant , named Audrey 2 after Seymour's girl , turns out to be more than it seems. In an epic showdown, Seymour is forced to choose between good and evil in his pursuit of love. Zach Pulsifer is Seymour and Courtney Case is the lovely Audrey. Beau Simmons plays Mushnik, the greedy owner of the "little shop," Mushnik's Skid Row Florist. Playing Orin Scrivello, DDS, the "semi-sadist" dentist boyfriend of Audrey, is Preston Coleman who performs a variety of other roles in the show as well. Henry Simril plays Patrick Martin, Customers, and additional roles in the company. The Urchins, a street-wise Greek chorus, are played with sass by Kaitlin Jenks as Ronnette, Kaitlyn Lindberg as Chiffon, and Grace Puffer as Crystal. Technicians for the show are Chris Schiebout, Joe DeLoach, Finn Bridgeford, and Ross Weathersbee.
Technical direction is by Felice Stokes, musical direction by Misty Theisen, and the production director is Mary Dillon
The show runs at 7:30 pm Thursday, October 23 through Sunday, October 26th in Pingree Theater on the Christ School campus. General Admission is $10 and children/student admission is $5.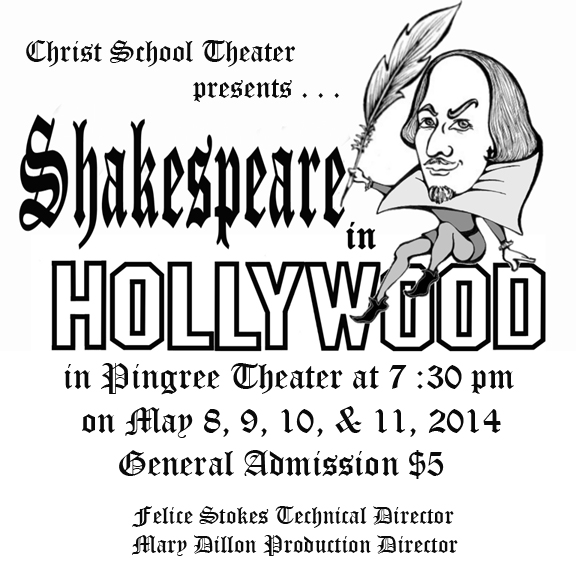 Performances May 8-11 at 7:30 p.m.
Pingree Theater
Christ School Theater presents its spring production of Shakespeare in Hollywood by Ken Ludwig with performances May 8-11 at 7:30 in the Pingree Theater. It's 1934 and Shakespeare's most magical characters, Oberon and Puck, have mysteriously materialized on the Warner Brothers Hollywood set of Max Reinhardt's film A Midsummer Night's Dream. Instantly smitten by the glitz and glamour of show biz, the two are ushered onto the silver screen to play (who else?) themselves. With a little help from a feisty flower, blonde bombshells, movie moguls, and arrogant actors they get tangled up in loopy love triangles with raucous results. The mischievous magic of moviedom sparkles in this hilarious comic romp.
Senior Jones Hussey stars as Oberon, King of the Fairies, with 8th grader Beau Simmons as his sidekick, Puck. Playing famous Hollywood legends are Reid Scothorn as Jimmy Cagney, Daniel Beale as Joe E. Brown, John Caldwell as Dick Powell, Trevor Murrah as Jack Warner, Alec Wnuk as Harry Warner, Will Janvier as Max Reinhardt, and David Dupelchin as Will Hays of the infamous Hays Office. Filling out the strong ensemble cast are Preston Coleman as the yes-man Daryl, Anna Zimmerman from Marshall High School as Lydia Lansing, with Devin Hickman as Olivia Darnell and Dru Thompson as a Starlet both from T.C. Roberson High School. Providing technical artistry are Winston Purifoy on set design, Chris Schiebout on lighting design, Chalmers Carr on sound, and Timmy Walker on stage crew. The technical director is Felice Stokes and the production director is Mary Dillon.
View photos on our media gallery: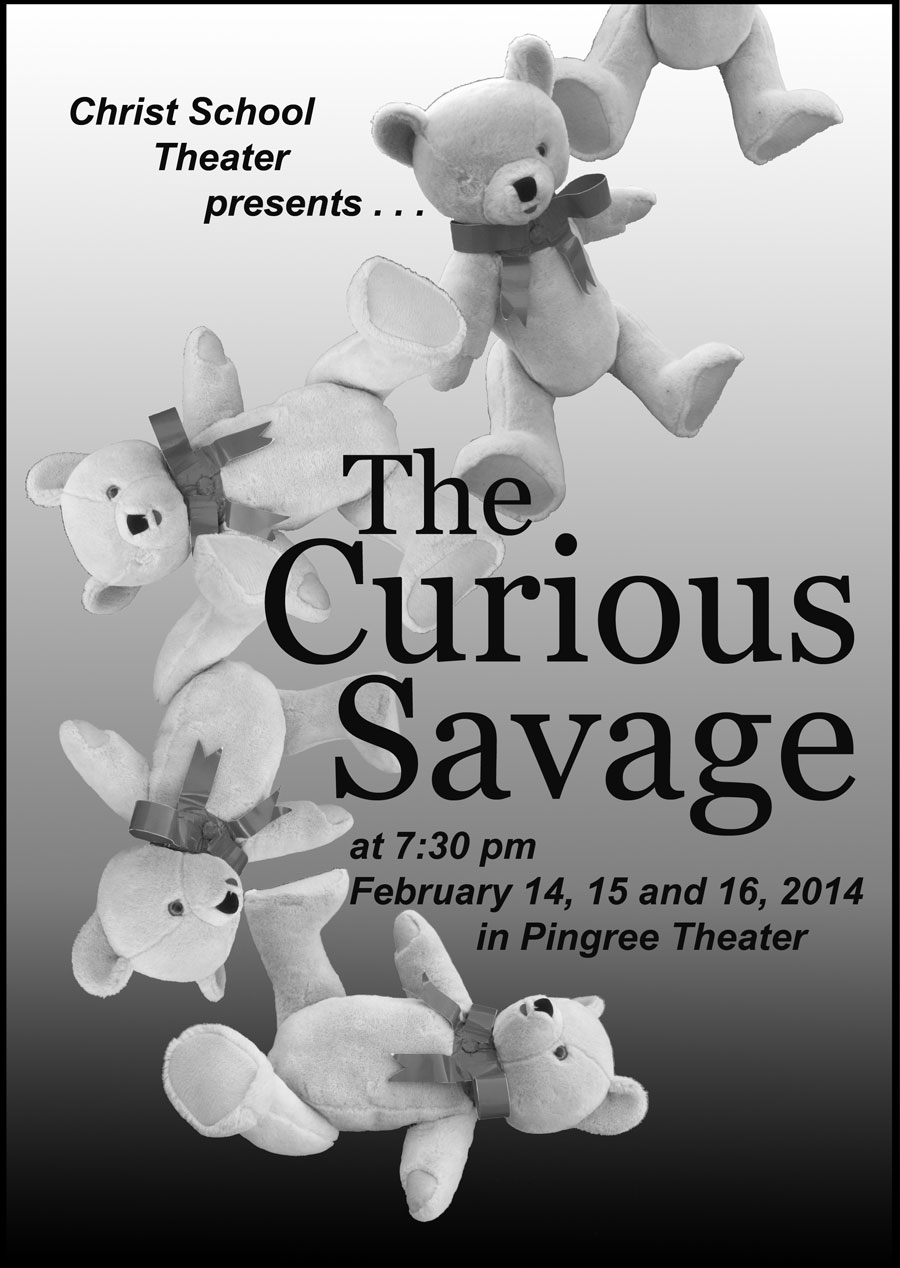 February 14-16 at 7:30 p.m. in Pingree Theater
Christ School's winter Theater production is The Curious Savage. It first opened at the Martin Beck Theatre on October 24, 1950 and has been delighting audiences ever since. It's a family comedy that will please everyone!
In The Curious Savage, Mrs. Savage has inherited ten million dollars by her recently departed husband and wants to make the best use of the wealth, despite the efforts of her grown-up stepchildren to get their hands on it. When her stepchildren find that they cannot coax the money out of Mrs. Savage, they commit her to a sanatorium hoping to "bring her to her senses."
Guest actresses hail from TC Roberson High School, Asheville. Jessica Savitt portrays Ethel (Mrs. Savage). Mrs. Savage's stepchildren are portrayed by Grace Puffer as Lily Bell, Reid Scothorn as Titus, and Thomas Lynch as Samuel. Sanatorium misfits include Kaitlyn Lindberg as Florence, Courtney Case as Fairy May, Patrick Fitzsimmons as Hannibal, Eddie Dalrymple as Jeffrey, and Robert Bonds as Paddy. On the sanatorium staff are Brielle Fuchs as Miss Wilhelmina and Preston Coleman as Dr. Emmett. Our technical crew consists of Chalmers Carr and Allen Pettit. Chris Schiebout is the Lighting and Sound Director. Our youngest member of the crew, Julie Youtz, is assistant to Director Marshall Baltazar. The Technical Director is Felice Stokes.
Performances run from February 14-16, 2014 in Pingree Theater with shows starting at 7:30 p.m. Admission is $5 at the door. Christ School students, faculty, and staff have complimentary admission.
You won't want to miss this charming comedy! For more information, call 828-684-6232.
October 24-27 2013
7:30 pm - General Admission $5 at the door
Pingree Theater

Christ School Drama's fall production is the Off-Broadway sensation, The Musical of Musicals-The Musical, a series of satires of different musical theater genres.
Each "act" lampoons a different style: the send up of Rodgers and Hammerstein is entitled, "Corn;" Stephen Sondheim's section is titled, "A Little Complex;" the Andrew Lloyd Weber section is called, "Aspects of Junita" and the parody of shows in the tradition of Cabaret and Chicago is titled "Speakeasy."
Audiences will recognize moments from Oklahoma, Sweeney Todd, The Phantom of the Opera, Cats, and other classic Broadway hits. Senior performers Jones Hussey and Reid Scothorn share the stage with freshmen, Daniel Beale, Preston Coleman, and Zach Pulsifer in a variety of roles.
Joining the cast are Anna Zimmerman from Madison High School, Courtney Case from T.C. Roberson, Grace Puffer from Reynolds High School, and Mia Smith from Asheville High School. Supporting technical designers and stage crafters are students Michael Ray and Winston Purifoy, with Chris Schiebout as the student lighting director. The Musical Director is Misty Theisen. The Technical Director is Marshall Baltazar, and the Production Director is Mary Dillon.
Performances are October 24-27 at 7:30 pm. Admission is $5.00 at the door.
For more information, call 828 684 6232.
May, 2013
Pingree Theater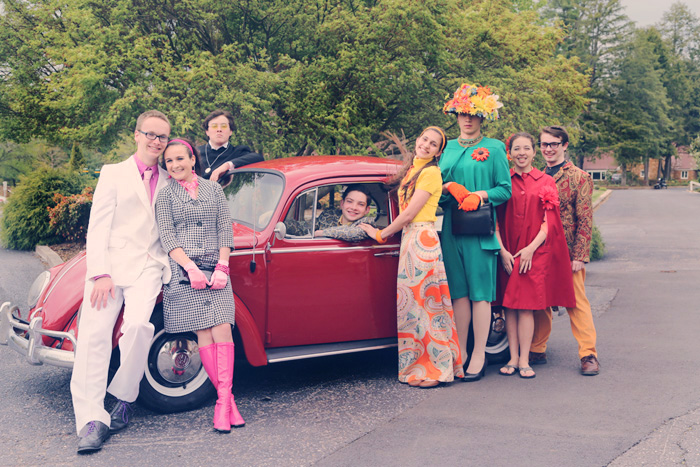 Christ School's Spring Drama production for 2013 was Oscar Wilde's classic comedy The Importance of Being Earnest. First performed in 1895, it has been one of the most popular shows produced by theaters, from high school level to professional level. Director Mary Dillon set the show in the "swinging 1960s" and included a live band of students, actors, and musicians performing music from that era.
The cast featured the comic talents of Blaise Dunsmith as "Ernest in the city and Jack in the country," Sam James as Algernon, Reid Scothorn as the Rev. Chasuble and Will Cole as Lady Bracknell. Trevor Murrah played the irreverent roles of Lane, manservant, and Merriman, the butler.
Working with technical director Felice Stokes on production elements were Chris Schiebout on lights; Chalmers Carr, Morgan Hunneke, and Jake Deutermann on set, props, sound; and Vincent Li, design.
Joining the cast from TC Roberson High School were Maggie Preston as Lady Gwendolen Fairfax and Kaitlyn Lindberg as Miss Prism. Emma Lenderman of Asheville High School was the independent and charming Cecily Cardew.
View more images on our media gallery:
February 2013
Pingree Theater
Christ School Drama's Winter Production this year is Neil Simon's comedy Rumors. The Production opens in Christ School's Pingree Theater on Friday, February 15, and will run through Sunday, February 17, at 7:30 PM.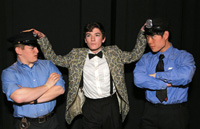 Rumors is one of Neil Simon's most popular and well-known plays. It opened at the Old Globe Theatre in San Diego, California in 1988. The story is about a group of wealthy New Yorkers who attend a dinner party only to find that the host, hostess, and servants are not available. The guests begin making ridiculous assumptions about what went wrong, and zaniness follows.

The play features Christ School students Sam James, Reid Scothorn, Banks Simmons, Thomas Lynch, Connell Maloney, and Tony Sun, with a musical introduction performed by Nancun Yu and Tony Sun. Rumors is directed by Marshall Baltazar, with Felice Stokes as Technical Director.
We hope you enjoy the "sit-com" like humor and the excellent portrayals given by this talented cast. Parents of young children, be aware this play does contain some adult language.

View more images on our media gallery:
October 2012
Pingree Theater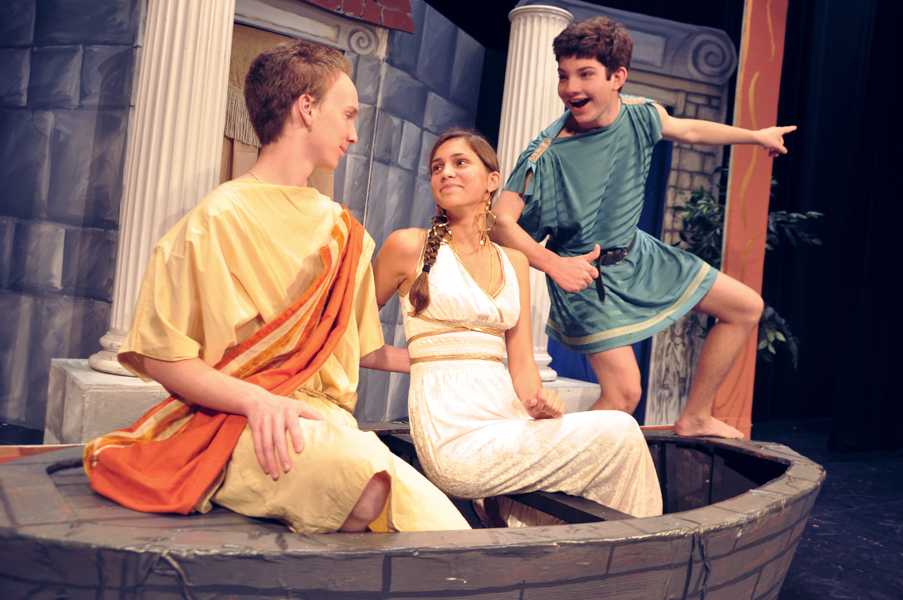 Christ School Drama's Fall production this year is Stephen Sondheim's musical comedy masterpiece A Funny Thing Happened on the Way to the Forum. It opened on Broadway in 1962 and has been entertaining audiences ever since.
The show is inspired by the farces of the ancient Roman playwright Plautus, as well as the American vaudeville tradition. The musical tells the story of a slave, Pseudolus, who will do anything to get his freedom. Senior Sam James from Raleigh stars as the desperate Pseduolus. Joining the cast are local girls from Asheville High School, Madison High School, and North Buncombe High School. Dr. Vance Reese is the Musical Director, with Marhsall Baltazar as Technical Director, and Mary Dillon as the Production Director.
View more images on our media gallery: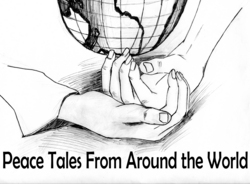 May 2012
Pingree Theater
The Christ School Players traveled around western North Carolina performing their children's theater production of "Peace Tales from Around the World" this spring. The tales include:
The Gates of Paradise - from Japan, in which a master teaches a samurai that peace is the pathway to happiness.
Feathers - from eastern Europe, in which a village woman who speaks unkind words about others learns that her cruel words cannot be taken back easily
Halving the Cookie - American Folk Advice
Holding Up the Sky - from China
A Blind Man Catches a Bird - from Zimbabwe, in which a young man learns what honor and trust is from his blind brother-in-law
Ah Shung Catches a Ghost - from China, in which a clever boy overcomes his fear and outsmarts a ghost
Strength - from West Africa, in which the animals and Man compete to see who is strongest, but when Man acts in anger he is left alone by all the animals.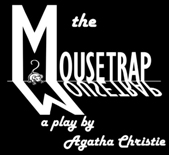 February 2012
Pingree Theater

The Mousetrap by Agatha Christie has been running since it opened in London in 1952 and in fact is now the longest running play in history. A dark comedy and a murder mystery, the play's surprising twist at the end hopes to catch audiences by surprise.
For the Christ School production of Dame Christie's play, the young cast, most of whom have never acted before, has worked hard to pull off the play with remarkable wit and excellent timing. As in every performance of The Mousetrap, the audience is asked never to reveal the end of the play. The production team: Patrick Lanier, Felice Stokes, and Director Marshall Baltazar have worked diligently to put on a play that will keep you engaged and guessing.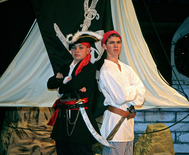 October 2011
Pingree Theater

Christ School Drama's Fall musical this year is Gilbert and Sullivan's classic comic operetta "The Pirates of Penzance." Working in collaboration with CS Drama's production team of Mary Dillon and Marshall Baltazar is the local professional group, Opera Creations.
Teaching artists Karen Svites, Timothy Wilds, and Simone Vigilante will teach vocal performance skills, model the rehearsal process, and perform in the musical alongside the students.
Vance Reese, also of Opera Creations, is the Musical Director. Joining the cast are girls from Asheville High School, Madison High School, North Buncombe High School, Waynesville Middle School, and Veritas Academy.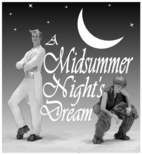 May 2011
Pingree Theater

Two sets of lovers are inadvertently caught up in a battle between a fairy king and fairy queen. A group of workingmen get into the act and all is hilarious chaos. As in all his comedies, the Bard sorts it all out in the end, "Jack shall have Jill, naught shall go ill" and the play ends with everyone reunited with the "right" one, laughing and happy.

The production is directed by Mary Dillon with technical direction by Felice Stokes. The cast includes Alex Biggs '14, Gil Cushman '14, Gabe Dunsmith '11, Thomas Heynen '11, Jones Hussey '14, Hayden Lalor '14, Alston Lanier '11, Shep McCauley '13, Zach Richardson-Bull '12, Walter Sellars '14, Richard Walden-Mull '11 and George Wolfram '11 as well as many actors from the community. The supporting crew as well as set and costume deisgners include: Chandler Ding '12, Kyle Harrison '11, Cooper Henkel '12, John Hall '11, Addison Honeycutt '11, Albert Joo '11, Patrick Lanier '12, Jon Meidl '11, Price Mulford '11, Eason Warren '13, Jason Williams, Emma Wooley, Ray Yang '12 and Dean Zhang '11.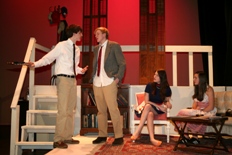 February 2011
Pingree Theater

This hilarious comedy tells the story of a high-strung, recently-divorced man who moves in with his slovenly friend, with disastrous and entertaining results.
Real-life roommates, and Charlotte residents, Colby Moore and Thomas Heynen fire up the stage as Felix Unger and Oscar Madison. Other cast members include Reid Scothorn (Asheville), Chase Bickford (Hendersonville), Kristian Gaylord (Laurel Park), Rex Qiu (Inner Mongolia) and three guest actresses Emma Wooley, Madison Fiedler and Ilona Stanback, all from Asheville.
The production is directed by Marshall Baltazar with assistance from Felice Stokes.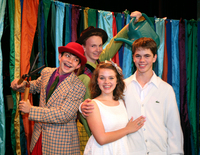 October 2010
Pingree Theater

This musical, written in 1960, is the longest running production in the history of the American stage. A parable about the ideals and realities of romance, it features such popular songs as "Try to Remember" and "They Were You."
Starring Richard Walden-Mull '11 as El Gallo, Christina Maxwell as Luisa, Jesse Richardson-Bull '13 as Matt, Blaise Dunsmith '13 as Bellomy, Sam James '13 as Hucklebee with Reid Scothorn '14 as Mortimer and George Wolfram as Henry. The Mutes are played by Alex Biggs '14, Mitchell Smith '11 and Dean Zhang '11.
The production is directed by Mary Dillon with musical direction by Dr. Vance Reese and technical direction by Marshall Balthazar.