Snyder '19 and Hammel '20 Take Down More School Records
blong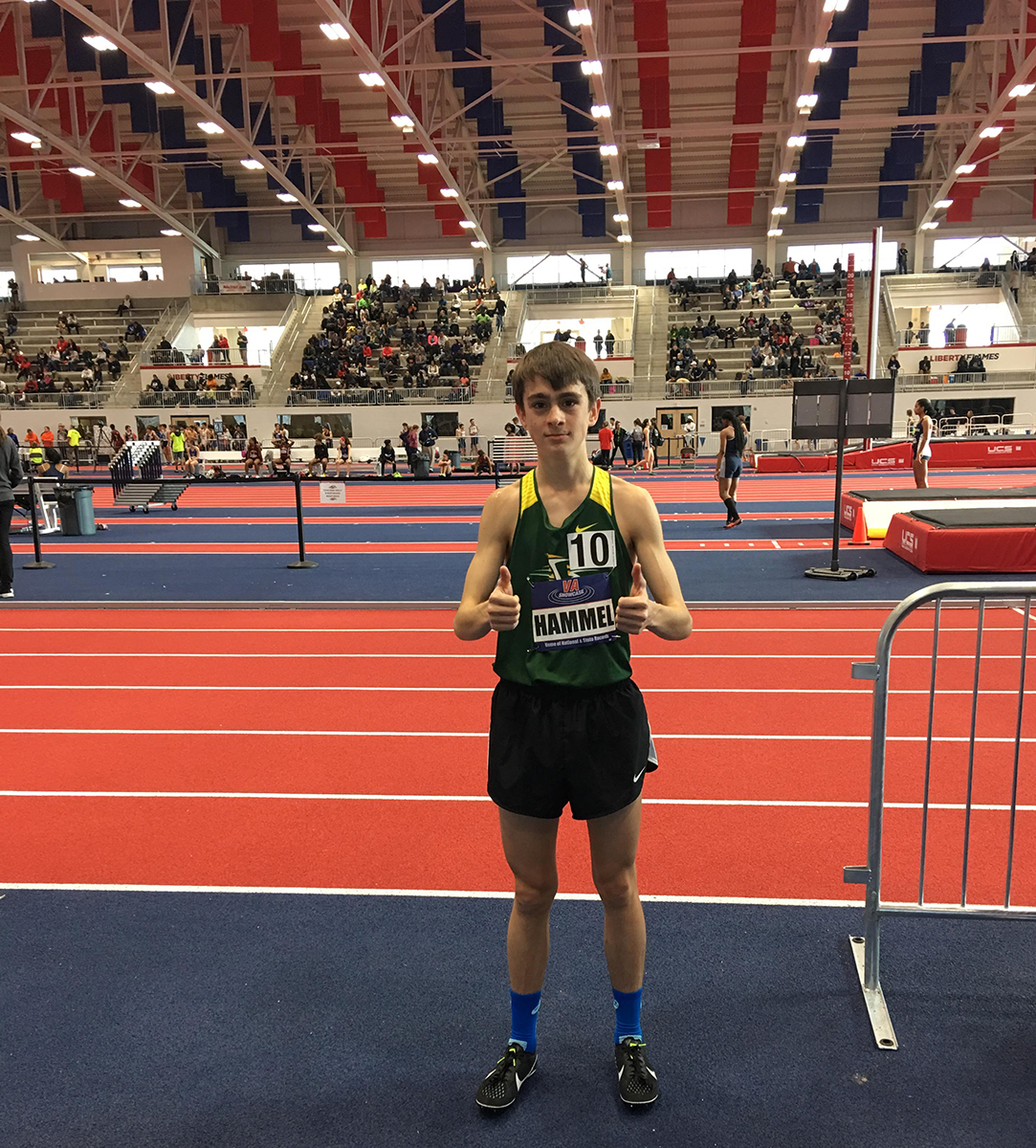 Snyder '19 and Hammel '20 Take Down More School Records
On January 19th and 20th, the five members of the Christ School Greenies Track team competed at the highly touted VA Showcase Invitational at Liberty University. Despite the ongoing freezing temperatures outside, the competition on the track was hotter than the 4th of July. At least 3 National High School records were set, as well as a number of US #1 marks. Our boys competed well, with all setting personal and/or season bests. Leading the way for the Greenies was Kevin Snyder '19.
"Since Kevin opened his season last week with a long jump of 23-9.50, Coach Cobb and I were excited to see how he would open the season in the triple jump," said Coach Randy Ashley.
This mark was a personal best by 8" and also a new Christ School record. Needless to say, Kevin did not disappoint. Kevin opened the competition with a 1st jump leap of 48-08. Kevin's best mark in 2017 was 46-0, which was a school record and a NCISAA 3A State record.
"For Kevin to open with this leap showed he was ready for the competition. Going into the round of Finals jumps, Kevin was in second by one inch. On Kevin's fifth jump, he broke the competition with a leap of 49-09," Coach Ashley said.
This mark is currently US #1 and is the fifth all-time best triple jump in NC High School history. Oh, and Kevin came back to win the long jump Saturday with a leap of 23-03.
Also having a good weekend was Andrew Hammel '20. Andrew ran a personal best of 4:36.24 for the 1600 on Friday, and then doubled back with a school record and 7 second personal best of 9:35.49 to take 2nd in his heat of the 3200 meter run. Keyvaun Cobb '19 set a personal best in the 300, a seasonal best in the 500 and a season best in the triple jump. Juan Mantilla '19 and Kiki Alcime '20 also ran season best times in the 500 and 55 meter dash, respectively.
To watch a video Interview of Kevin Snyder after his performance, click here.
Christ School Results
Sort
Name Event
BOYS

ATHLETE

PLACE

SECTION

RESULTS

55 METER DASH

7.07

SB

108th

Prelims H14

300 METER DASH

36.70

SB

42nd

Finals H23

500 METER DASH

1:09.22

SB

28th

Finals H7

1:09.28

SB

30th

Finals H9

1,600 METER RUN

4:36.24

SB

14th

Finals H2

3,200 METER RUN

9:35.49

SB

2nd

Finals H1

LONG JUMP

23-3.5

1st

Finals H1

TRIPLE JUMP

49-9

SB

1st

Finals H1

41-9.25

SB

12th

Finals H3